Pickings have been slim in the thrifts around here lately. Most trips result in nothing exciting and are hardly worth the gas money. Today I decided to take a drive out to one of the bigger stores and was finally glad I made the trip!
This was my very first find in the door: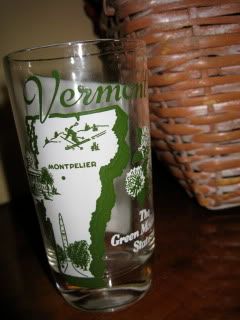 Did you see the article in the current issue of Country Living about the
State Souvenir glasses
? This one is different from the one they featured from Vermont but I think it's cuter! And now, of course, I'll be searching for more. 1 down, 49 to go! lol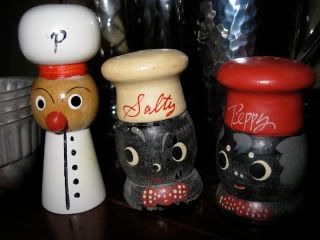 I LOVE Salty and Peppy. I promised myself I wouldn't buy salt and pepper shakers as I just donated a bunch but COME ON. Could you have left them behind? And that guy on the left? I'd love to find his mate. I looked all over the store but no luck. Hopefully she'll turn up in time. (Do you think of salt as female and pepper as male or is it just me? ha!)
Someone donated a huge amount of fabric scraps as there were piles to go through. Most were patterns I didn't love and as I already have that giant load of fabric brewing I figured I shouldn't add to it too much. The pieces for 99 cents and about a yard each. I scooped up these four pieces. Loving those pink and blue damask designs.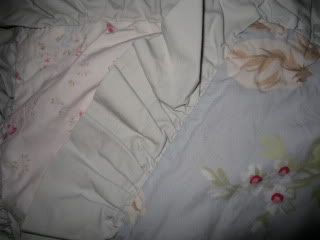 And one Shabby Chic pillow sham. (awful photo!) Again, I wish it were a pair but perhaps it, too, will appear in a future trip.
So now everyone do the thrifty karma dance so I may reunite my shaker and sham! :) It's nice to finally find some things that I couldn't wait to inspect when I got home.