As you know, I have A LOT of time on my hands and on my butt (sitting on it, that is.) You also know I love to knit and crochet and my forte leans toward toy making.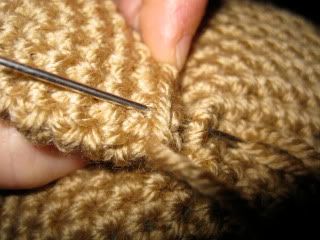 I love stuffing them, sewing their little arms and legs on, etc.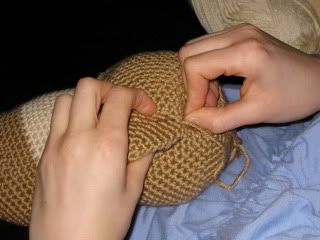 I found this great new yarn at
Michael's
a few weeks back and then immediately found out they were discontinuing it! It's a cotton acrylic blend which is my favorite for toy making. It went on clearance for something like 80 cents a skein and I scooped up a ton of it. Then I designed my own pattern for a fun teddy friend:
What do you think? The colored bears are made with the yarn I mentioned and the brown one is made with standard worsted weight acrylic so he comes out a bit bigger. They are around 20 inches tall and make great friends! I plan to type up the pattern and list it for sale on
Etsy
for a few measly bucks. What do you think? It is a worthy pattern?
I am working on a little sweater for the brown bear, I thought he needed some color.
I have listed all of my free crochet patterns
here
on
Ravelry
along with the label section on the side bar under patterns. I'm excited to publish this first pattern and am already working on a few more. :)
I was wondering if I have any crocheters out there who may want to test my pattern for me? Supplies needed would be yarn (2 skeins usually will do it), stuffing and buttons. So if you have that laying around and are interested in helping me test the pattern please let me know. I'm looking for 2 to 3 volunteers. I should have the pattern available this week.
ciao!
Rebecca