Maryland has had almost 80 inches of snow in 2010. It is only February! Yikes. I know the entire state has cabin fever but I don't feel for them. At least they can WALK. Even if it is just to pace around their house or shovel their drive ways. I'm going bananas. I have 8 more weeks of sitting on my butt. I'll be certifiable by then for sure.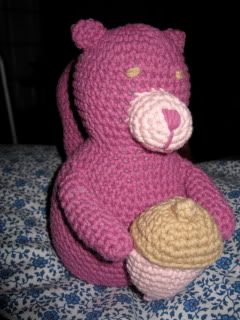 I've crocheted a menagerie including the squirrel above. He is another one of my original patterns and he's quite a bit cuter than his picture shows. I may try to go back and write down the pattern.
Here are some half made crocheted friends. The cat is coming out quite cute even though I HATE. THAT. YARN. Seriously. It's tough to see the stitches and it makes fuzz all over you. The green frog on the right (hard to tell, I know) is for a special project I'll share when it's done. A bit of a contest, really.
These two were made for my dear friend Dana's little boy Charlie for Christmas. The bunny is knit and is a Debbie Bliss pattern from her
new magazine
and the giraffe is crochet and is a free pattern from Lion Brand which can be found
here
. I'm very happy with the way they came out and am pleased that Charlie and his Mom liked them. :)
I'm sure in another week I'll be buried in crocheted and knit toys. Obviously I need a new hobby.
xoxoxo
~RR