Not only are the Winter Games in Vancouver going on right now but ANOTHER even bigger event is taking place:
The

Schmancy

Winter Games Challenge
Kristin, who runs the fabulous
Plush You
blog among many many other things, issued a challenge to toy makers to create a team of Olympic
plushies
. Each participant was given a sport and today was the deadline to submit your
plushie
to win a medal in that event. My event is Figure Skating. (yeah!) So without further ado, please meet
Hippolita
Hoppington
of the Frog Pond Federation: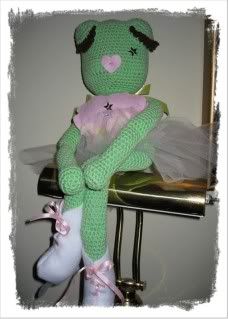 Hippy
is a classic skater who loves all things sparkly and
girly
. She loves hot tea with flies and leg warmers and is a bit upset with me for not making her a pair to wear with her new skating outfit.
After her Olympic career is over she is hoping to become a cover model for Amphibian Times:
Or perhaps pursue her passion of torch singing: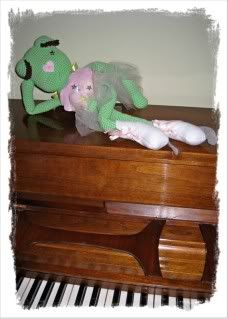 So please wish
Hippy
luck as she goes up against some heavy competition over at Plush You. You go, girl!
xoxoxo
~RR
PS - if interested, Hippy is made from 100% cotton yarn and poly-fil. She outfit is tulle, felt, fleece, ribbon and sequins. She is my original pattern and MAY be put up for adoption in my Etsy shop. She could use a sweet young girl to take care of her. She would like that.