Before I get to talking about myself, since I only had 4 people for the Shameless giveaway (which is more than I expected, thanks!) I'd like to send each of you a Faith Austin hankie!
Caroline
- thank you and please send me your address!
Jane
- thank you for the order, I tucked one in with your package! It's a bit different than the ones I showed but I think you will like it, it's very kitschy!
Erin
- thank you and send me your address!
Lesa
- thank you for your order, I'll tuck a hankie when I mail it off to you!
I'm really enjoying sharing my treasures with the bloggy world! Plus my DH is okay with my shopping when I say "it's for the shop!" Little does he know that I keep more than half of what I list, lol.
Now onto the 20 questions we have to answer for the Summer Swap at Sweet Goodness! My partner is
Melisa at Burford Designs
. She was a vendor at the Farm Chicks Show! :)
1. What is your favorite Summer Drink(s)?
I love mixing seltzer and juice. My current favorite is that fancy pants Valencia OJ from Tropicana. As for adult beverages, I like pina coladas and rum punch. YUM
2. What is your favorite Summer Activity?
Honestly, I hate the heat. But I love going to
Rockaway Beach
and evening Met games.
3. If you could spend a lazy afternoon reading, what would be in your hands?
I'm a dork and a re-reader so probably something I've read before and loved so I could revisit some old friends. My friend Dana and I decided we needed trashy romance novels for our trip to the beach this summer and so far I've thrifted these two: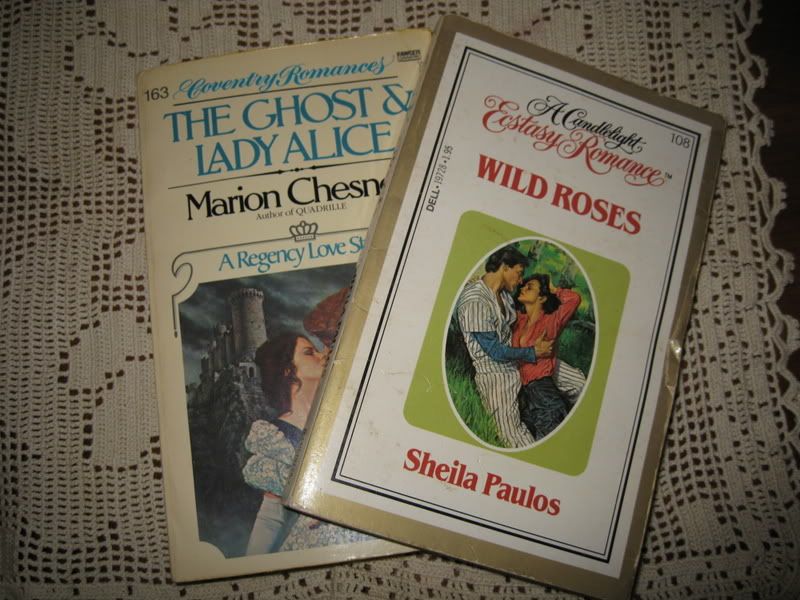 Oh boy oh boy, I can't wait. That one on the right is about a female sports writer and a baseball player, hmmm . . .
4. What is your favorite type of craft/art medium?
Seriously I'm all over the place on this one which is probably why I can't seem to finish anything. I knit and crochet and sort of sew and I like paper. I buy paper just because it's pretty. :)
5. What is one art/craft supply you absolutely have been dying to have or try?
I shouldn't be trying anything new, lol, but I still want to work on my sewing skills!
6. What are your favorite colors in our 'rainbow sherbet' theme? Pink, lime green, yellow, orange, aqua (or blue)
Pink, yellow and aqua are probably my favorites. My mothers LOVES lime green so I tend to stay away from that one. ;) but they are all great summery colors!
7. What is your favorite sweet treat?
Oh boy, I need to stay AWAY from sweet treats. :) So let's say that I like sugar free hard candy lol.
8. Are there any craft or art supplies you would NOT be interested in receiving?
I don't really paint. That's about the only thing. :)
9. What is your favorite song today?
Again, I'm a dork and always WAY behind the times. I listen to standards (Sinatra, Bobby Darin, Cole Porter, Ella, Etta, Etc.) but I love me some Justin Timberlake! (ha ha ha)
10. How do you 'pamper' yourself during the hot summer days?
I love the spa. I would live there if I could afford it. But instead I just get pedicures once in awhile. Though I think I'll treat my self to a facial some time soon . . .
11. Do you have any kidlets or pets?
We have two dogs. They hate the heat, too. My collie, Mason, is 4 and my Chinese Crested, Kaiser Peanut, is 3.
12. What is your best potluck dish for summer get togethers?
I like to make corn salad and spicy Thai shrimp.
13. If you could take a summer vacation anywhere, where would it be?
Since we live so close to the beach I think I'd like to go somewhere cooler. Like Alaska. :)
14. Describe your decorating style. Does that say anything about your personality?
Eclectic though I love French Country inspired pieces, toiles, dark reds, stripes . . . I guess it says that I seriously need to pick one thing and stick to it, lol.
15. What are your initials?
RLR
16. Why do you like to join swaps?
I saw this answer to this question at
Shara's blog
and I think it really sums it up:
"Originally, I thought it would be fun to get mail. Then I realized that the true joy is putting things together for someone you don't know because when it's all said and done, you might have a new friend."
Perfect answer! One of the reasons Shara's blog is a favorite is because she has such a way with words! I've said it before but if you haven't read her post about
The Creepy Guy
you must!
17. You have 25 dollars to spend just on you for a little treat.
What do you buy? You know I'm heading right to the thrift store, right? LOL But a real treat for me is new makeup. I don't wear a lot but the stuff I like isn't cheap. I recently treated myself to some new stuff and boy did I get complimented! :) Vain, I know, but nice. My favorite line if
Benefit.
The packaging is to die for!
18. What's one craft supply or art supply you absolutely can not live without?
If I have to pick one I would say paper. No yarn. No, paper. Yarn. Okay there are two. :)
19. Who's the last person you hugged?
My sweet Mason dog. :) Wait, he's not a person. My sweet Louie.
Man it's weird seeing him without a goatee! But I do love this picture :)
20. What's your favorite number and why?
Black 22, baby!! 22 is my birthday and I love some roulette!*
Anyway, that's all about me! I'm off to learn more about Melisa and get started on my swap!
xoxo
RLR
* I like roulette, bourbon, action movies and hockey. I'm a manly man's dream come true! LOL