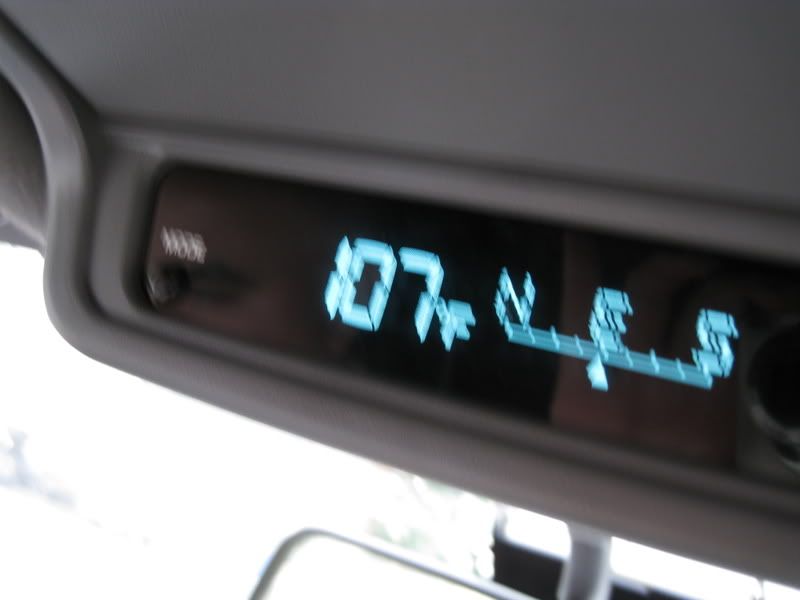 Oh yes, that says 107 degrees. That's in my car on Sunday afternoon. It always registers a few degrees warmer but STILL. One would think that with those kind of temperatures expected that Dita and I would have cancelled our trip to the
Elephant's Trunk Flea Market
yesterday
. One would think . . .
Not only did we brave the heat yesterday but we also ran around in the rain on Friday to hit three big Long Island thrift stores. We found many treasures! I was hoping to find some new vintage trims for
The Shop
but no such luck. :( AND I saw a lady at the flea market with a whole CART full!
Argh
! I really wish I hadn't seen that.
LOL
I did find some hankies, a few vintage British pop up books, some great
Bakelite
belt buckles and buttons and loads of gorgeous vintage pillowcases, though. Once I figure out what I'm keeping I'll list the rest on
Etsy
. :)
So onto the goods . . .
A few hankies (you know I'll be keeping that pink and brown one!) and some sweet baubles including another
enamel
flower pin for my collection! I found one on Friday, too. And I seem to now have started a collection of rhinestone pins, too. :) All of this is from the flea market. See that oval rose dish? Dita found it for me. On Friday I found these at Savers: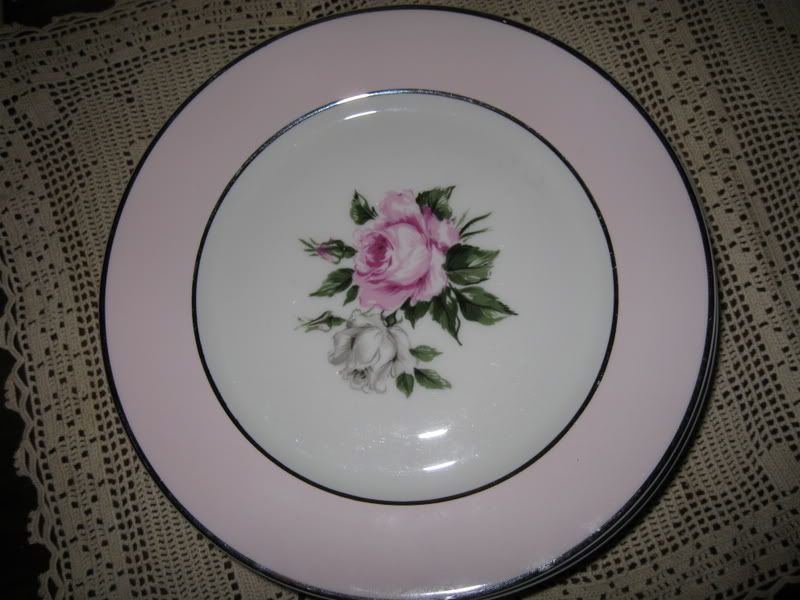 There are 6 plates and the pink is slightly lighter (not as much as in the pictures). I love them! What fabulous dessert plates! :)
My best deal of the day at the flea market was for this quilt:
I love it! It's my first vintage quilt. :) It has some damage but it was worth it. The lady was so nice. I wasn't going to ask the price of the quilt. It was one of the first places we stopped and I know how
collectible
vintage quilts are so I instead asked for the price of a jar of buttons and a linen tea towel. $4 for both, okay sounds good, she's not too pricey I'll just ask. $10 for the quilt! Seriously, okay that sounds great I'll take it! When she picked it up to put it in a bag she noticed the damage and said "
Hmm
, I didn't realize it was ripped. How about $10 for everything then?"
Yoink
! I'll take it!*
So as you can imagine, I have the flea market fever now. It's a good thing that one is 90 minutes away or it could become a bad habit. I did hear about one in Yonkers though . . .
Anyway, Dita and I had a fabulous weekend together. I'm so lucky to have her as a friend. :) I'll get to see her for 4
th
of July this year, too! I'll share more of our treasures this week including the goodies I'll be putting in
The Goodness Shop
AND a giveaway. I think the prize w
ill
be vintage Faith Austin hankies, what do you think?? Details to come!
cheers
Rebecca
* - I think that is the new Thrifty Goodness motto,
LOL
"
YOINK
! I'll take it!"
Yoink
, of course, being the sound you make when you snag a great thrifty find. ;) Any one out there yelling "Yoink!" lately??