Hello all! Hope your summers are going well. :) I am doing pretty okay though I was a bit under the weather this weekend and spent a long time lying on the sofa yesterday. I started making a crocheted bunny. So far . . . eh. But we'll see. He is HUGE. I think once he has ears and a face I'll love him more. :)
Thanks for all the kind comments on my octopus! He was fun to make and I just love that color. I have some of that yarn left over so perhaps I'll make him a buddy in the opposite colors. Maybe a GIRL octopus.
Oh la la!
So I am starting to feel that toy making is my forte*. I have made quite a few lately and really enjoy it. Mostly I have been following patterns but some are originals. This is my latest:
She is from
Sew Pretty

Homestyle
. She is the bathroom angel (for lack of a better descriptor) but I didn't give her wings and I made her bathrobe from chenille instead of wool felt. I wanted to use fabric scraps I already had and I am happy with the way she came out! I will probably make her a friend, too.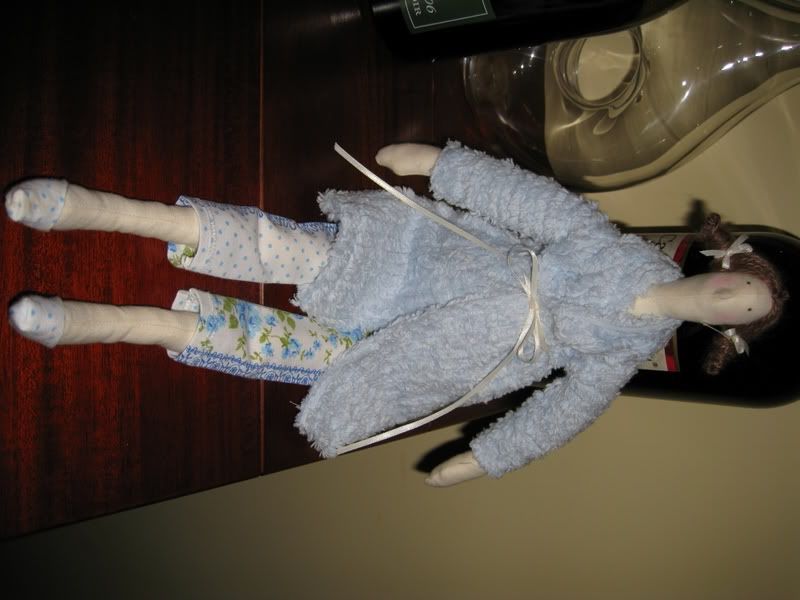 Don't you love her tiny little slippers and her pig tails? I really enjoyed making her, sewing on her little arms and legs, creating her hairdo . . . what a weirdo!
LOL
I have some pictures of swaps
I've
received to share as soon as I locate the pictures. I know I saved them somewhere.
cheers!
R
* - I found an old notebook where I wrote "Crocheted Gloves: Is it my forte?"
LOL
Um, I'm thinking no, no it's not. ha ha ha ha