So what do you think of the new look? I sort of like it but the pink also sort of makes me a little sick, too. Thoughts? I would love to figure out how to do a new header and I believe I'll have to put that on my short list of to do items.
Did you know that
I won Heather's bridal shower giveaway
?? I'm so excited! And
Lucy
won, too! What a bunch of lucky girls. Nice to see I've hit my quota of winning one thing every 15 years. 2022 is going to be a good year! ;)
I'm being abducted today. My Good Girls are taking me away for a bachlorette weekend. I have no idea where we are even going! Exciting, no? So I thought I would dedicate today's post to the love of Girlfriends. You know the old saying that boyfriends come and go but your girlfirends are forever? Well it's certainly been true for me. I am so fortunate to have such close and long time friends. For instance, my dear friend Dana and I have known each other since we were 5!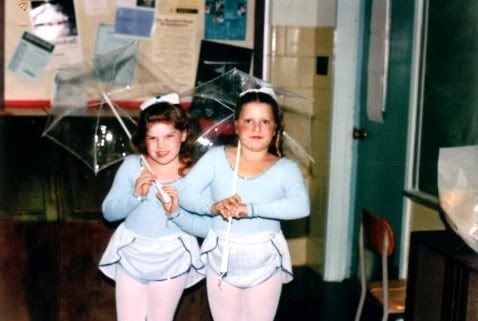 I'd say we're about 7 in this picture? That's me on the right looking like I'm a cadet at Gene Kelly's Singing in the Rain Boot Camp. Dana would be the cute one on the left. Still friends after all these years.
I also have Stacy who I met in the 9th grade and Ida who I met in 10th. Fortunate is the only way to describe it. So hug your girlfriends and think of them often. They've seen you at your worst so you have to keep them close. ;)

*Rebecca and long time friend Kate hamming it up at Dana's wedding rehersal dinner 2004*
Until Monday . . .
Rebecca