Finally I have some thrift worthy pictures to share. I found some goodies in my last couple of trips to Baltimore.
Vera napkins, set of 4 - 45 cents each:
I love the daisy design!
Ransburg copper canisters - $5 for the set of 4
: how rare to find a canister set in tact and I looked up Ransburg online and it seems to be pretty popular but most pieces have a graphic design to them and are not as plain as these. Anyone familiar with this maker?
Limoges (USA) bowl - $2.50:
I just thought this was pretty though I think the Limoges USA may be a little collectable but not as much as real French Limoge.
mini muffin tin - $1:
I always pick up bakeware especially when it's brand new
lace pillow shame - $1:
I can't resist eyelet!
pot - $2:
(the pillow case and muffin tin are inside of it) you can't see this that well but I love these big old pots.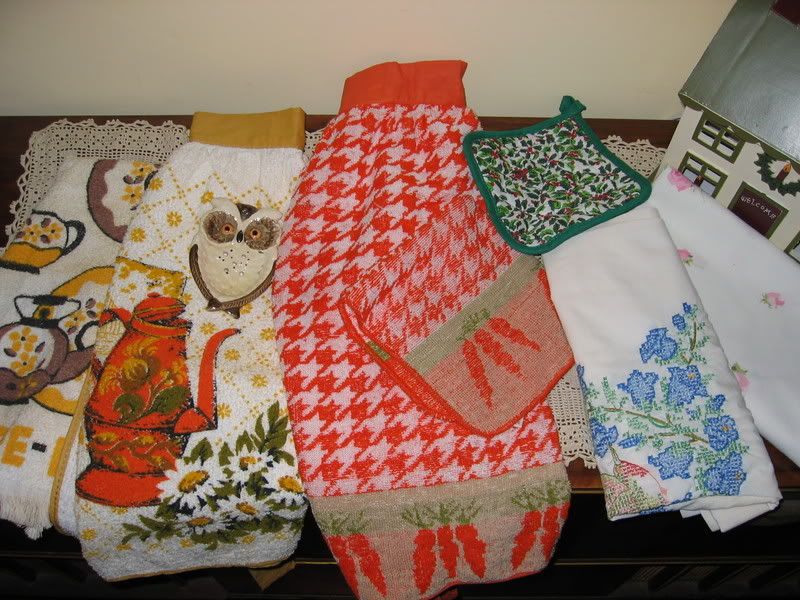 Here you see a hodge podge of vintage linens including 2 of those fun terrycloth aprons and a lovely embroidered pillow case (the blue flowers). I also see a wonderful little owl tea strainer that is too cute for words. I love all vintage linens and embroidered items and have quite a collection of them now. Did you know that my 100th post is quickly approaching? I think I'll celebrate with a little give away that will include the linens you see above plus some other thrifty and crafty surprises. So if you'd like to be in on the drawing please leave me a comment and I'll have Luis draw a lucky winner for some Thrifty Goodness! I'll post the winner on my 100th post which should come on or about next Tuesday. I'll make it the last thing I do before I leave to get married.
Cheers!
Rebecca