TOOT! TOOT! That would be me tooting my own horn. I wrote another article for the National Thrifter and I'm pretty proud of it! Check it our
here
. And just who is the
Thrifter of the Month
? Why
Apron Thrift Girl
, naturally!
Now about my title. This weekend I started several projects that I hope (fingers crossed) to finish before Christmas. I consider myself a relatively organized person. I balance my check book religiously, put the cap back on the tooth paste and neatly fold underwear and socks. On Sunday afternoon when I decided to hang up my craft hat for the day I took a look around my space and couldn't help from cracking up. It was like a tornado hit a Michael's. Geesh. And of course I thought you'd all like to see the mayhem. :)
So here they are, the Four Corners of My Craft Room:
CORNER #1 - Yarn Central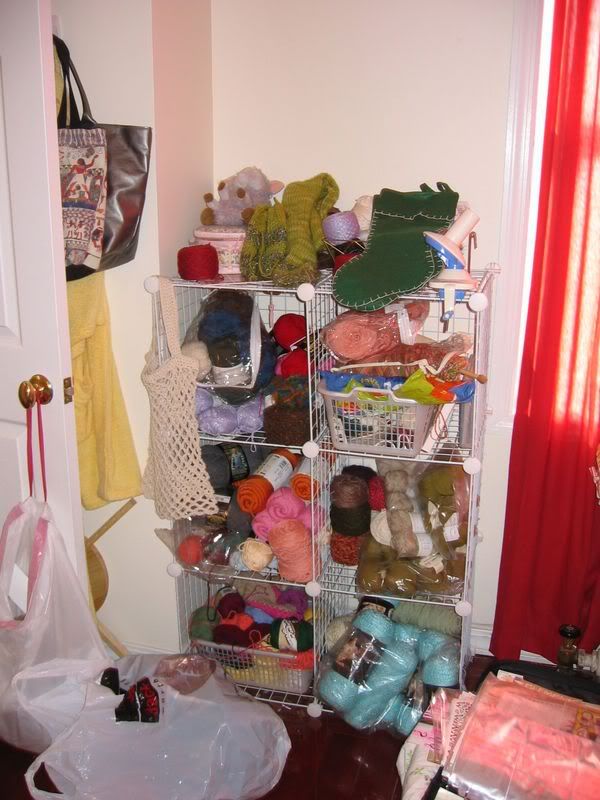 Joolz & I recently hit
Smiley's
Manhattan Yarn Blowout and I stocked up. Not as much as Julie "Two Garbage Bags" McGee over there but still, I bought several bag lots of yarn including the 6 skeins of turquoise
Homespun
you see in the front. Oh and that basket in the top right cubby? Full of buttons. Yeah.
Highlights?
My crocheted bag from
Vaxgirl
just waiting for a WIP to fill it up and trash bags on the bottom left to prove that I really do throw some things away.
CORNER #2 Futon Workspace
I would like to say that normally the futon is clear of all crafting stuff but that would be a lie. I'd love to get rid of the futon and get another work table but I'm worried that relegating my overnight guests to the living room pull out isn't as nice as having a their own room with a door. Regardless of the God awful hardness that is a $49 Ikea futon mattress.
Highlights?
That's an entire 3 ring binder FILLED with stickers on the left and I see Luis' Homer Simpson flip flops on the bottom right. Makes me wonder what he was doing in there sans shoes . . .
CORNER #3 Craft Desk Mania

This is the crux of the craft room, the Mecca, the ooey gooey chocolately center. And boy is it a MESS.
Highlights
. . . hmmm . . . there is my
Sizzix
machine which has seen quite a bit of action lately and an in-progress scrapbook for a friend to be named later (don't want to spoil the surprise!) and a large pile-o-crap on the right there that consists of lord knows what.
CORNER #4 Home of Sewing Machine that Hates My Guts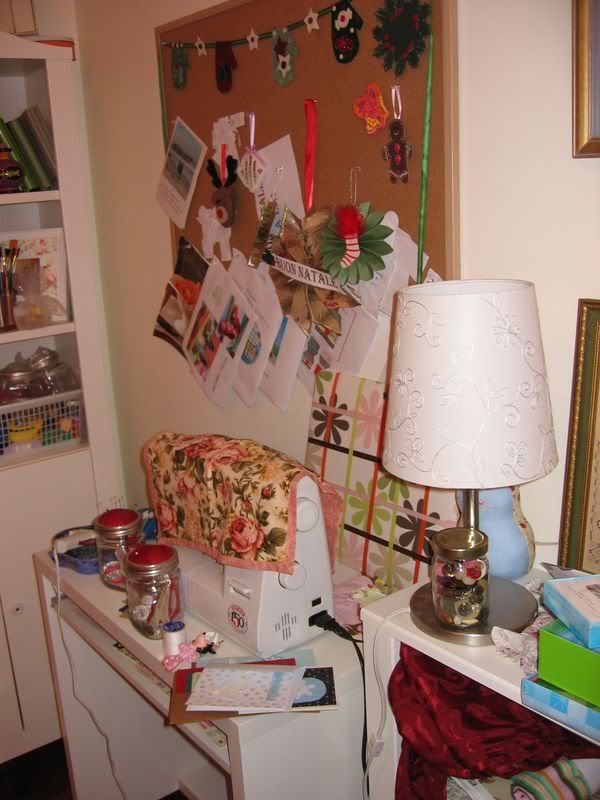 Yes, there she is. In all her non-sewing glory. I even gave her a nice blankey yet she STILL gathers all the thread down around the bobbin case. GRRR.
Highlights -
my bulletin board which doesn't look nearly as crowded as it could be and the jar near the lamp is filled with my favorite buttons. Yes I said FAVORITE buttons further more proving my dorkiness.
So that's it, the grand tour. I'm not always this much of a slob but when the creativity bug bites, the neatness bug goes out the window.
xoxoxo
Rebecca