Yes. I like felt. And I like blanket stitch. I like them because I can sew stuff by hand in front of the TV while drinking copious amount of Diet Wild Cherry Pepsi. That is my kind of crafting.
Vaxgirl
put it into my head that I needed to make
these sewing kits in a jar
ala Martha. I had the same problem as she did in that it was damn hard to get the freakin' lids to go back on the jars once you made the pin cusion tops. Well I solved that problem with a lot of cursing and by removing the actual metal lid part, replacing it with a piece of heavy cardstock and shoving it down in there with a knitting needle. More proof that all that "easy" stuff done by Martha is really done by demons on loan from her deal with you-know-who. Just kidding Martha, I really love you, I do.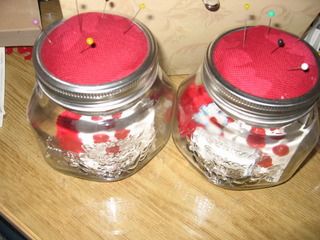 I found the jars yesterday at the dollar store. I will probably try to pick up a few more today. The fabric I used for the pin cusion top is actually upolstry fabric and it would probably be easier with something a little lighter. Inside, so far, I have some red and white buttons, white thread, safety pins and these felt needle books I made: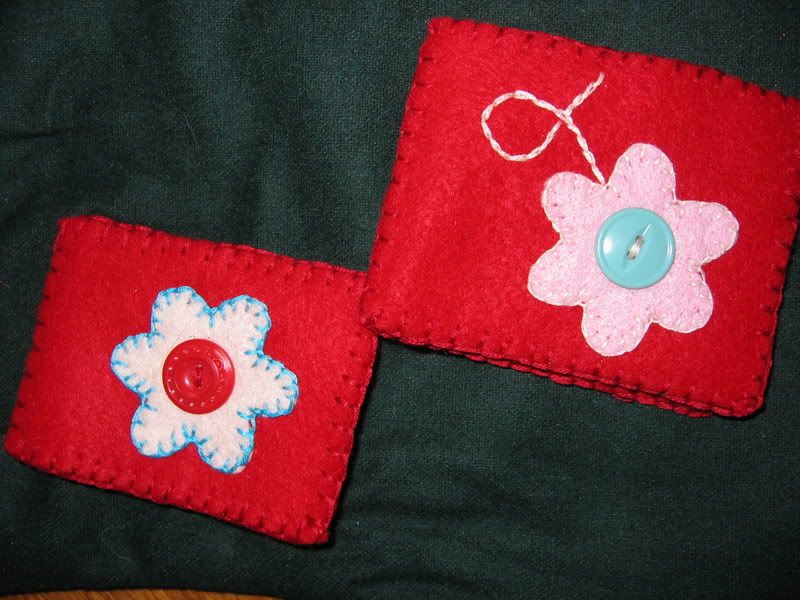 I need to get some needles, thimbles and those little gold bird scissors. Great gift! :)
As I mentioned before, I'm enjoying making felt items because I can locate myself in the living room and catch up on my soap opera, I mean THE NEWS. Ahem. This is a very portable craft. I took a thrifted picnic hamper and turned it into the felt station: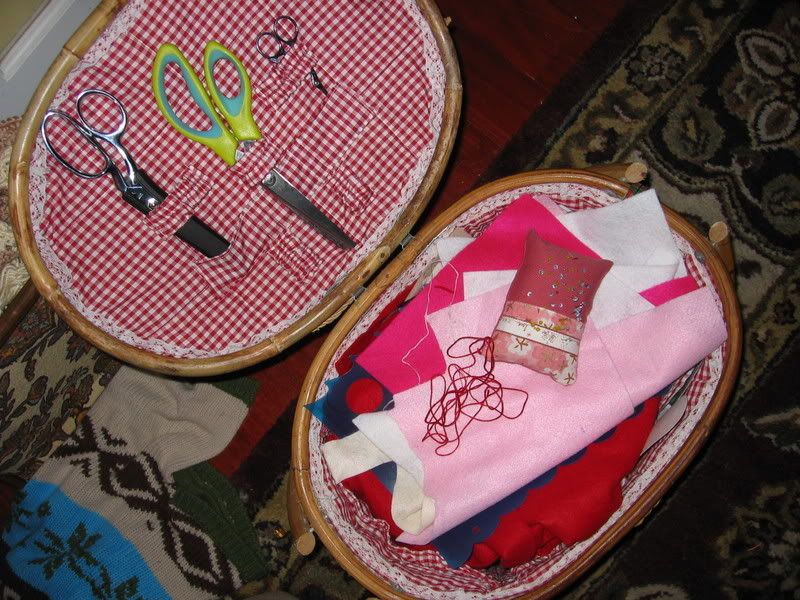 The loops on the lid, meant for utensils, make great scissor holders. There are pockets all around the lining for thread, buttons, etc. and all my lovely felt and fabric fits inside along with a circle template (for making yo-yos) and my favorite pin cusion made for me by
Sara
. *big grin*
I'm so glad it's Friday! Tomorrow I get to meet Vaxgirl and thrift the day away. Fun! Sunday I'm making Luis go shopping with me. Not so fun. I also hope to make my own version of these
adorable dress ornaments
by
Posey
. Out of, you guessed it, FELT.
ciao mi dulci bellas . . . may the felt be plentiful in your homes.
Rebecca