Again this year I joined Shara's Eggcellent swap. You make a dozen eggs, send them to Shara and she sends you a dozen back. I love the challenge of coming up with something I can make in bulk that goes with the theme and doesn't make me want to poke my eyes out after the third one.
Last year I made
these
. Cute and sort of egg shaped. Again this year I decided to think outside the egg carton and come up with a project that didn't include a plastic egg.
Voila! Egg shaped needle books. (Why yes, they are cute, thank you.)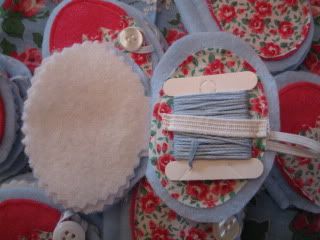 I used supplies I had on hand which was nice though it didn't make much of a dent in the apocalypse sized fabric stash I own.
I'm happy with how they came out and am now sad I didn't make one for myself.
I packaged them up in little lolly pop bags (thrifted, score!) and stapled a little vellum to the top.
You should see the eggs I received! Head
here
to see each egg and the creator. I was going to take photos but Shara's are better. Plus I already have dispersed the eggs among the craft room and my desk at work. Egg-cellent.