Hello! I'm hard at work on my eggs for Shara's swap so I haven't been doing as much crocheting and have no new projects to share. I do have a few finished animals that I am really happy with that I still need to photograph and I'm also in the middle of another animal for an original design contest put on by Red Heart Yarn. That's it for me for crafting news.
Soooo
in the mean time I thought I'd share some favorite old family photos. Some of my cousins and I have been sharing photos on
Facebook
and having a blast! In fact we have plans to put together a "Pasta Sunday" where everyone will bring their old photos and we'll watch my parents old slides as well. So what is Pasta Sunday? When my mother was young she spent Sunday's eating pasta at her Aunt Gloria's with all of her cousins. They still try to get together these days for a modern day Pasta Sunday. So now on with the show!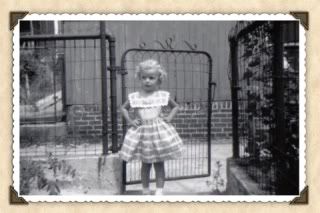 This is my mother as a young girl. I love her sassy pose and stripey dress!
My parents not long after they were married. My Mom says that hair cut is called a Sassoon and was quite popular! The little dog is Tiffy and she used to bite people. She was my mother's first daughter
lol
.
My mother's parents, Helen and Wes, on a vacation in Atlantic City. Everyone thinks I look like my grandma when she was a young woman. She was really happy when I dyed my hair red in college because she always wanted a red handed grand daughter
lol
. Both are passed away and greatly missed.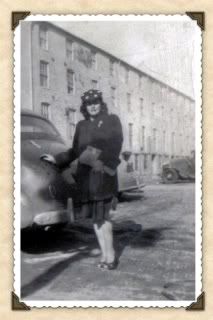 This is my Great Great Aunt Sissy. She was my grandmother's aunt and her name was Lucia. She went by Lucy but I guess I couldn't say that as a child and called her Sissy instead. It stuck. (Sorry Aunt Luce!) She was quite the fashionable lady and gave me my love of vintage clothing. She gave me jewelry, gloves, coats and handbags to die for. I still harbor a dream of opening a second hand store called Aunt Sissy's Attic someday.
I hope you've enjoyed this walk down my mother's side of the family. This is my Italian side and we have a lot of photos. I don't have as many of my Polish/Irish side of the family but hope to find some and scan them in. Here is the current generation: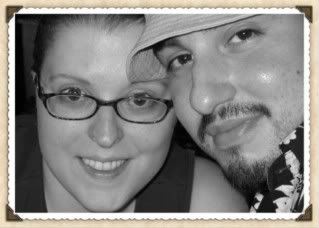 Myself and my sweet hubby Louie who has added a touch of South America, Colombia specifically, to our family tree.
cheer
~
Rebecca