My sweet husband just sent me a wonderful gift, the new Barnes & Noble
eReader
, the nook.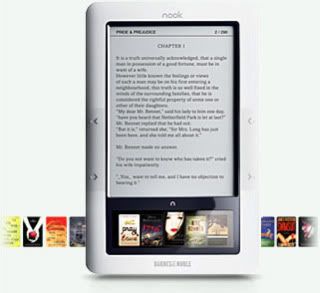 I had mentioned to him last year that I was curious about it but was still on the fence. I love books. I love the feel of them, the look of them stacked up next to the bed, the smell of the paper, you name it. I couldn't imagine giving that up. Of course now I realize that I will still be buying books at the thrift and yard sales, etc, but that the nook is a great way to purchase new titles and carry your library with you. I have already downloaded "Shutter Island," which was a $4 special this month, and plan to start it tonight. There are lots of free books, including classics and cheesy romances a like, and many books under $5 and $10.
The nook itself is neat and compact. You can download photos, music and
pdfs
from your computer. I'm thinking to have a collection of knitting and crochet patterns on hand at all times!
Can you tell I'm excited? Since I've met Luis I'm always on top of the new technological trends,
lol
. His first ever Christmas gift to me was a DVD player. He couldn't STAND watching video tapes on my scratch old TV and when my roommate's father bought her a new TV he jumped right in with the DVD player. He actually carried it on the train all the way to Baltimore. This year, in addition to the nook, he also just sent me a fancy new phone:
I love that's it's red and has flowers on it. Hello, ladies phone! Louie has always treated me to fancy gadgets. I think he "understands" them more so then jewelry and flowers,
lol
. However he has also given me
Lenox
crystal candle sticks and a pretty china ring holder when I was upset for breaking mine. So over all, he's a pretty good egg and I'm lucky to have him.
Thanks for the gifts, dear! That nook will get plenty of use while my leg heals.
~RR