Hello! How was your holiday? I am back from my
loooong
weekend in Baltimore and finally have something creative to share! Yeah! Mom, Mandi and I got together on Friday and made ourselves some Yankee Doodle Dandy crowns to celebrate the 4
th
.
Man my glasses are tilted! I've been trying to fix that forever. :) I'm guessing one ear is lower than the other lol.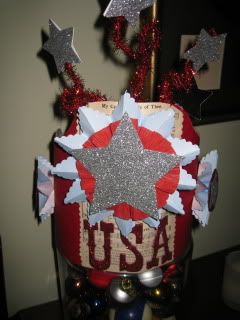 Crowns are easy to make. I just freehand a crown design on poster board and cut it out. I fold it in half to make sure it's
symmetrical
. Then glue paper to both sides and decorate to your hearts desire! Wrapping paper works well because you can cover the entire surface but you can always cover the seams if you want to use regular paper like I did. The you punch some holes along the ends and thread ribbon through and tie it to fit.
I started out thinking I would cut out stars and use glass glitter on them. I have a small jar of fine glass glitter just waiting to be called to duty. I tried one and it looked
blech
. :( So I used some sparkled paper I picked up forever ago at Joann's. It's sticky on one side and worked perfectly! I hope they still carry it because I'll be back for more.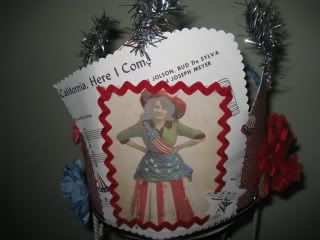 This is my Mom's crown. She used an image we downloaded from Country Living for a more vintage look.
The sides are covered in vintage flowers that I received in the Red, White & Blue swap. We also used some sheet music and ribbons that
Sarah
sent as well. It worked perfect!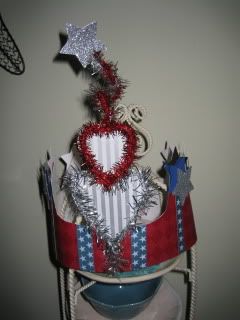 My sister's crown is of course unique just like she is!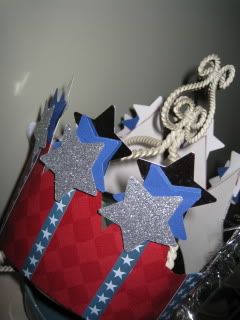 I love the stars on the side! She said it made her feel like Wonder Woman
LOL
.
We had a great time making our crowns and wearing them on the 4
th
. Maybe this will become a tradition! I was very inspired by the
RWB
swap with Sarah to try my hand at paper crafting again. I always forget how much I enjoy it.
I have more pictures to share from the 4
th
that I'll save for another post. Plus I'm pushing back my shop update until next week when
Mandi
is here for a visit. I need her to model the aprons! I also received the most amazing package from a
Queenly Friend
. Thanks again!
See
here
for the first crown I made!
Ciao!