Has anyone been
finding
anything at the Thrift lately? I know I'm not much up on my blog reading but those I have read haven't reported too much. I have found some things but nothing too blog worthy you know? I did dig through and have picked the best of the bunch out to share. :)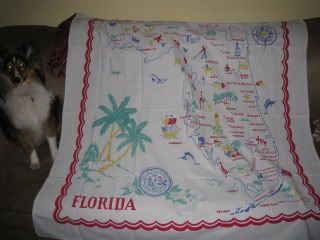 I felt so lucky to snag this vintage Florida table cloth! It's not in the best shape, someone wrote on the corner in magic marker? Why? But I love it anyway and it was only $2. :) See Lincoln there? He thought I was taking his picture.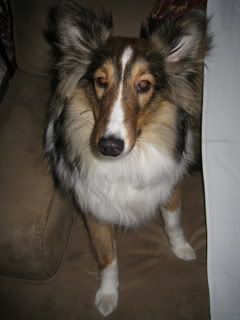 Alright, boy, there you go. Happy now? He's getting so big but still acts like a wild puppy. :)
I also found this table cloth. It's not hand made but it is large enough to fit my table (I need 102 inch length at the very least) and at $4 was a steal. It's a little stained but not too bad and I plan to use it for Easter brunch this year.
Also found these vintage pillow cases. Isn't the pattern divine? I'm trying to decide to keep them for pillow cases, put them in the shop or make something from them. If you were going to turn them into something, what would it be?
The red
Dansk
pitcher is a real mess. It has black marks all over the bottom showing through the
enamel
. But I love it anyway in all it's shabby glory. :) The little silver bread basket was too cute to pass up and the dessert server is for my mother who said she didn't have a nice one.
Hmm
. I find that hard to believe. Anyway, the quiche dish in the copper holder was in a box from
Macys
. I do make quiche a lot and now it will be that much fancier. :)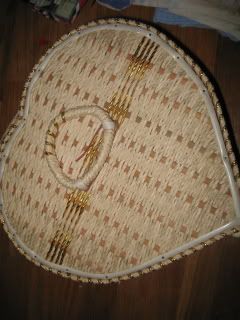 I also found this sweet heart shaped sewing box. The inside is yellow silk and is in fairly good shape. I'd love to add some vintage flowers to the lid maybe? I'm not sure what but I do think I'd like to decorate it. Maybe I'll try to make some velvet strawberries like I've seen on
this blog
which is one of my favorites. I think I'll check out her store for some of that vintage
millinery
.
May the thrift be with us all. :)
RR