Chenille stem Easter baskets!
I followed
these Martha instructions
and it was pretty easy. I used stems I already had but I think the pink and gold came out cute!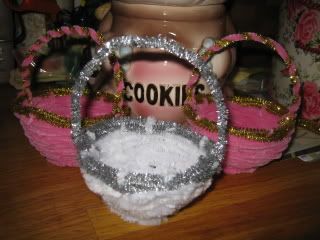 The white one was made with
bumpy
stems and is also cute but I think I like the pink better. I plan to put them on my table and fill them with Robin's Eggs candy, what do you think?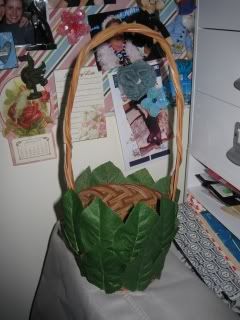 I also made this little basket after seeing
these on the Martha web page.
It's sort of cute, you think? And the cost was only 69 cents for the basket and 69 cents for a bag of artificial flowers and leaves. I want to pick up some kind of grass to put inside and I have a few
faux
speckled eggs that would be cute in there.
And speaking of Martha, has anyone picked up her A-Z Craft Encyclopedia? I decided to go for it and since I had a nice coupon for the Barnes & Noble I got it for a good price. I like it! There are new projects and also classics from the magazine. One thing I like is that there is a list of basic supplies and then instructions for for each topic including candle and soap making, rubber stamping, paper making, decoupage, you name it. I have already bookmarked a few things to try and hope to share them soon!
L. and I are off to Atlantic City this week to celebrate his birthday. We'll be back before Easter.
Fondly,
Rebecca