Spring is in the air. Thus making my brain feel muddled and unorganized. I don't want to be at this computer. I want to be outside twirling around. Well maybe just outside would do.
I've been trying to gather my thoughts for a post for a few days now to no avail. So instead here are some random thoughts:
A sweet bib I made for my expectant friend. The baby is "scheduled" to make his appearance on Wednesday but you know how babies are. They show up when they want to.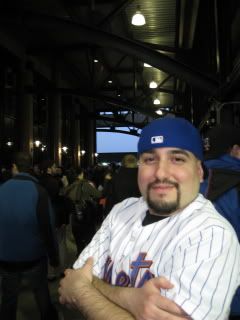 My handsome hubby at the new home of the New York
Mets
,
Citi
Field. This was a preseason game in March and it was so cold! I can't wait to go back for beers, baseball and hot dogs in the sunshine.
I
thrifted
the lid to this piece of Friendship pattern Pyrex about 2 years ago and then last week I found the bottom. Kismet! Total price of $7.00.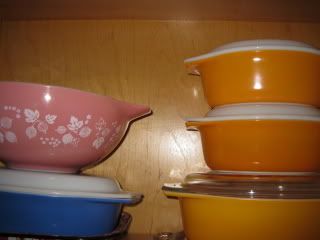 My little collection of Pyrex is growing. Of course I never
use
it so I don't mess it up.
LOL
I promised a giveaway last week and I am sticking to that BUT I am going to wait until I return from my trip to Baltimore at the beginning of May. I'm visiting one of those Treasure Sales and hope to find something fun to put up for grabs.
Now I'm off to stick my head out the window and soak up some sunshine. I'll be back this week with something crafted. Cross my heart.
hugs
Rebecca