I am long overdue in saying thank you for some happy mail: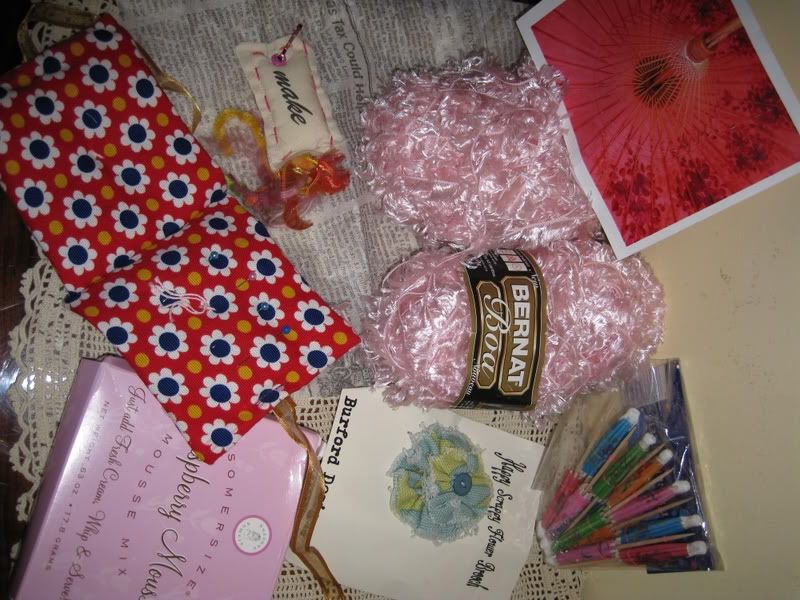 Photobucket
is being difficult today and won't let me rotate the photo for some reason.
Grrr
.
Anyway, this is my Parasol swap package from
Melissa
! She made me a lovely
key chain
that says "Make," a lovely fabric flower brooch and a sweet vintage fabric needle book. She also tucked in some cute pink yarn (that I am pretty sure will become a stuffed bunny!), mix for raspberry mousse and some cocktail umbrellas. What isn't pictured are some mints (that I put on my desk at work) and a baggie of
doggie
biscuits that the boys tore into right away. Thanks, Melissa!
As I mentioned, I had TWO partners for the parasol swap. My other partner was Chrystal. She doesn't have a blog but maybe she'll be convinced to give it a try!
Chrystal lives in Canada and is working at a restored village for the summer. She
treated
me to some candy from the sweets store there including some yummy Glee Gum. She also included a
pamphlet
from the park where she is working, some fun cup cake picks to
use
like cocktail umbrellas (clever!) and a
wooden
bracelet to decorate. I think I'll decoupage it. :) For the handmade part she embroidered this sweet
monogrammed
pendant:
What lovely stitching! Thanks again, Chrystal!
And some surprise happy mail from
Shara
:
She sure knows how to make my day. :) Look at all this fun stuff! I always loved things with my name on it. And this should keep people from stealing my pencils at work. :) Thanks, Shara, you know I love it all!!
I feel so lucky to get such fun mail. :)
hugs
R