Hello! I hope everyone had a fabulous LONG weekend. We ended up with some nice weather. I am nursing some rather nasty mosquito bites though. :(
I've been so lucky to receive some lovely mail lately. The first to arrive was my
apron
from
Wendy
for
Sarah's
vintage apron swap:
It's a lovely linen
souvenir
apron from California! And talk about
thrifting
kismet,
I just sent two similar aprons to

Vallen
and now I have my very own. Thanks, Wendy! Is this
apron
screaming
barbecue
or is it just me? :) I screwed up the link last time, you can see the apron I sent Wendy (for real)
here
.
Next I received this fabulous book and fabric from
Jane
:
What a surprise! The book is full of fun vintage childrens crafts including crocheted toys and sweet Peter Rabbit cross stitch. Perfect for me! You can't tell from my crappy picture but that fabric is pink and brown. Jane said she started visiting my blog because of my pink and brown wedding posts. Thank you so much for such a treat! :)
And yet ANOTHER surprise package arrived from
Heidi
: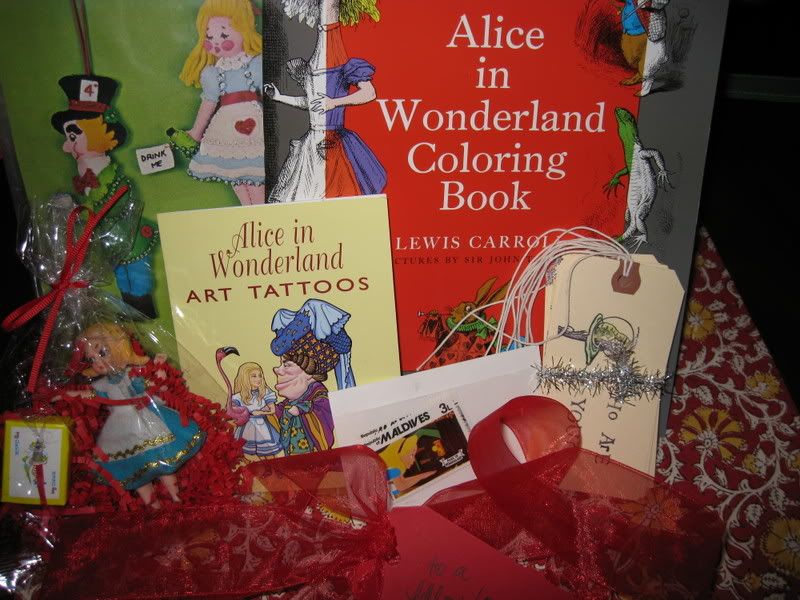 Look at this Goodness! Heidi and I share a love of all things Alice in Wonderland and she put together
some
wonderful things! There are
tattoos
and a fabulous coloring book from
Dover Publications
(which Heidi also turned me on to), a lovely vintage flocked Alice ornament and mini deck of cards, a vintage kit for making felt Alice ornaments (I'm so making them!), some Alice stamps and the most wonderful hand stamped tags! I tried to take a picture of them but it just wouldn't come out right. they are gorgeous! Thank you, Heidi. You made my day.
Thank
you t
o everyone for the sweet gifts! I don't know what I did to deserve it but I am tickled with the thoughtfulness. :)
I'll be doing a shop update by this weekend. I've unearthed some more fun vintage notions and fabrics and since I can't keep them all, why not share? My husband is happy that my
Etsy
funds will support my
thrifting
habit somewhat
lol
. :)
cheers
Rebecca