WIP - work(s) in progress

I have a TON of them. Most are knit or crochet projects as I tend to have a short attention span. I could overload your poor computers with all the photos of half done crap at my house. (Don't worry, I won't.) I spent a lot of time on the sofa last weekend as I hurt my hip. Walking. And no, I'm not 85. I have no idea what I even did but it made it difficult to get around without whinging this weekend. I figured since I was sitting about a lot I should attempt to finish up some of my WIPs.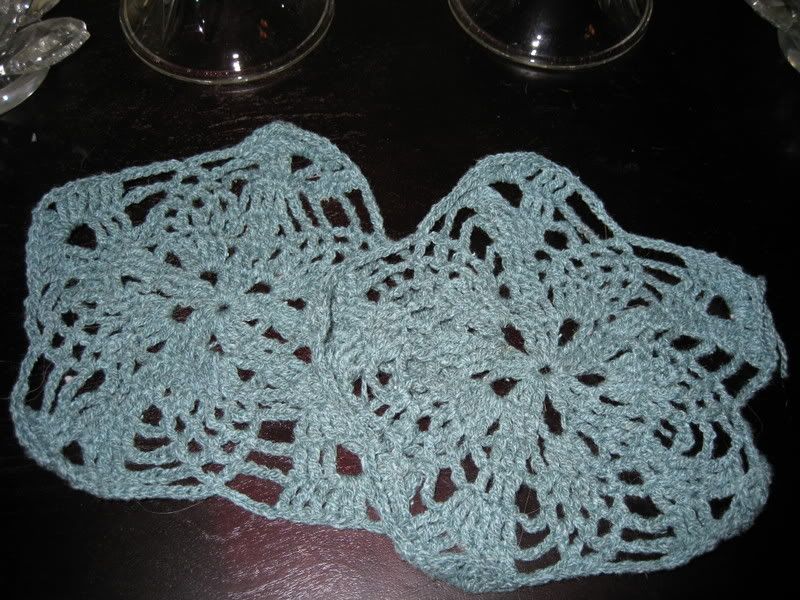 I think I'm going to make these into a scarf/wrap. They are very soft and "bendy" if that makes any sense. I've had this yarn forever, it's
Silky Wool by Elsebeth Lavold
and I have A LOT of it. And it wasn't cheap. It's a thin yarn and I love the texture but I just can't seem to find the right project for it. Crocheted hexagon pattern from
this book
. You can actually see the scarf hanging on a peg in the cover picture.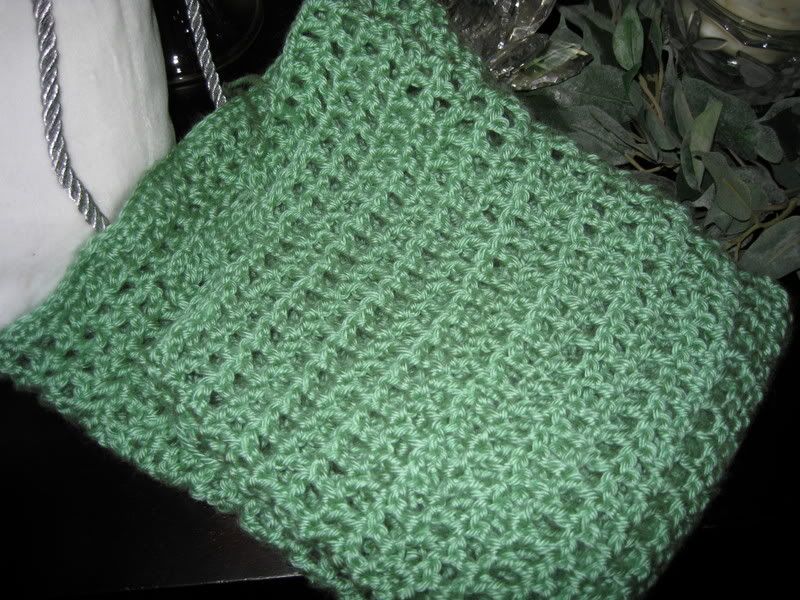 I started this for my sister way back in the summer. It's a kimono style wrap top from
Interweave Crochet
. This is the back. It woudn't take me that long to do the two front panels but I'm not sure I like it. I find that is a big reason for not finishing things, I don't like the way the project is going and just abandon them. I think I'll press on with this one as the yarn was a bargain and it shouldn't take too much longer to complete. Hopefully it won't look like one of those horrible hand crocheted things one finds in the thrift store bargain bin.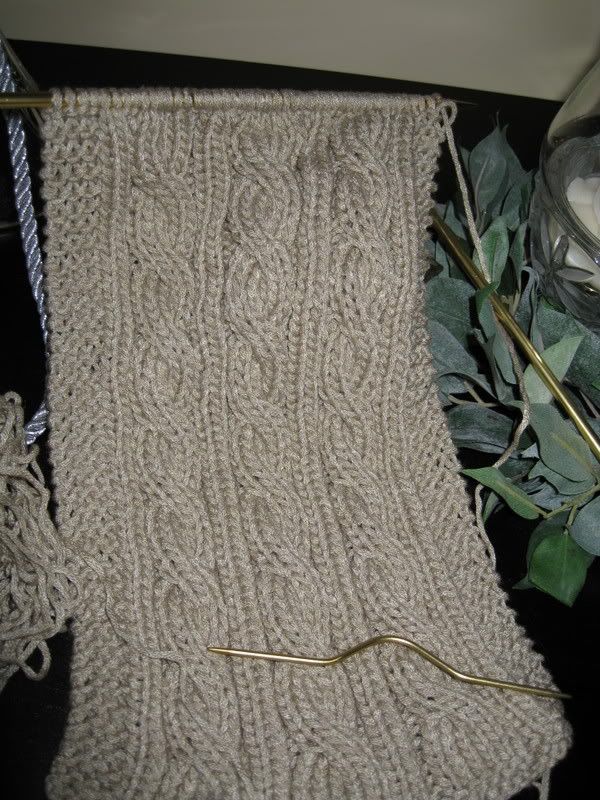 Irish Hiking Scarf
made from a favorite yarn of mine, Filatura Summer Soft, which is no longer being made. It really is soft and has great stitch definition. This is an easy cable pattern and I like the way it's coming along. I plan to stash this away for Christmas next year. I feel good about starting early just like
VQ
.
And guess what? I actually DID finish something while on sofa sabbatical: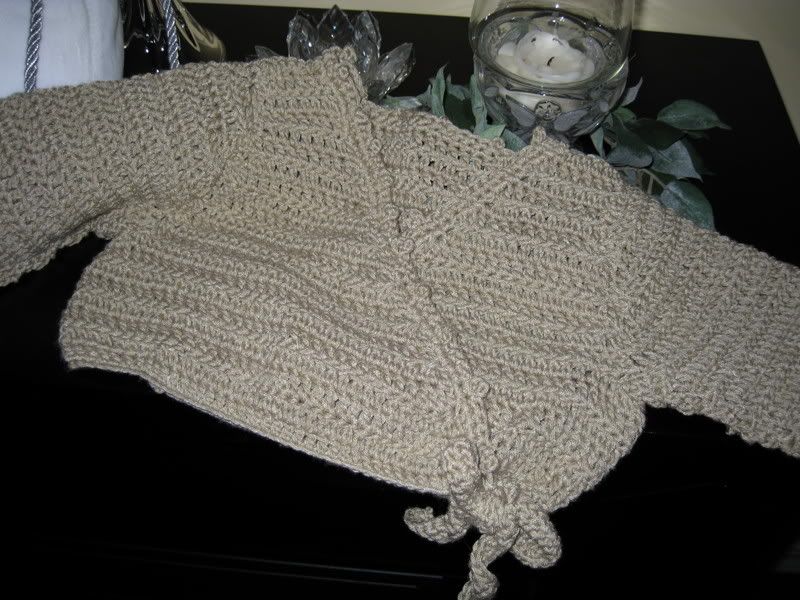 It's much cuter in person. :) Also made from Summer Soft, this is a pattern from
Baby Crochet
one of my all time favorite crochet books. The patterns are modern and sweet. This came out pretty big (I am a bad swatcher) but would fit a 12 month old I would guess. It still needs to be pressed and blocked but I'm happy with it. Most likely will make it's way to an expecting cousin.
I'm sure most of you knitters and crocheters know about these sites but just in case:
Knitting Pattern Central
Crochet Pattern Central
They are very up to date with ALL of the free knit and crochet patterns out there on the internet. You could spend days looking through everything.
cheers
R
PS - don't forget to leave a comment on
my Anniversary Post
for a chance to win the tiara bag! (and for those interested, tiara bags can be purchased
here
. Along with your very own Miss America crown. ;) )