So I spend a lot of time being jealous of other's cool thrifty finds. I am especially jealous of
Laurie's
estate sale goodies. Recently I was wickedly envious of
Sarah's found vintage fabric and spools of trim
. So I did a little dance and prayed to the thrifting gods that I would get lucky on my first thrifting outing in weeks. And they listened . . .
My guess is that someone who probably made fancy clothing cleaned house. The trims and sequins that I found seemed to be the type one would hand sew to something to worn for a special occasion.
There is about 4 yards of this beaded trim. It's 3 inches wide and it's heavy! I'm not sure what I'll use it for, maybe to adorn a bag? Who knows. I should put some of it in the shop but I'm so anti re-selling these days that I can't bring myself to get motivated to list anything.
I buy a lot of DMC embroidery floss but I guess I never thought about how it comes in to the stores. Look how cute the box is! I found two boxes with 25 skeins each and will never need to buy DMC 801 (a chocolate brown) again. Sounds like a brown sampler is in my future.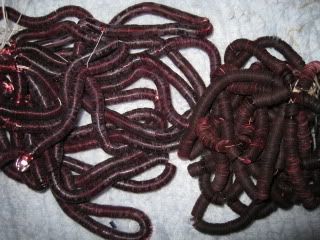 I was just looking on Ebay and Etsy for sequins. One set is a pretty pink and the other a reddish brown.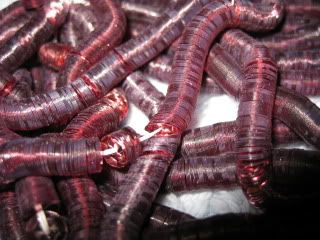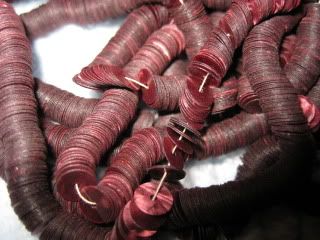 I also picked up a bag of random pieces. I could see that there were a few bags of beads and some beaded appliques but I was very happy to find this hiding within:
Adorable! And a true vintage piece. I also found a few others things including two wire cake stands and some minature items like doll house wall paper and flooring. So all in all a good thrift. Did you find anything good?