I was feeling rather punk yesterday and did a lot of sleeping/laying around/wishing I were on a beach, etc. I also did a bit of work on my current project: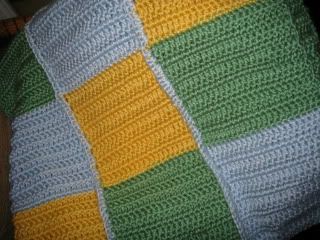 This baby afghan is for my dear friend Jini's adorable new nephew. I'm using
Caron Simply Soft
and making double crocheted strips and then making a single crochet ridge to bind them together. At first I wasn't sure that I would like the ridge but I think it gives it some texture. Once I steam it I think the ridges will fall into place better. I also plan to add a blue border and am considering lining the other side with cotton or fleece.
Hope all of you are feeling well and if not, passing the time with something you enjoy. Cheers . . .