When I went out to run errands last weekend I had two things on my mind, a new spring coat and Splenda. That's all I HAD to get while I was out and didn't want to goof off too long so I could get back and get some work done. Well I guess The Force took over and I somehow ended up at the thrift store before I realized where the car was heading. And believe it or not, I found some honest to goodness vintage items.
These refrigerator dishes were scattered all over the store and my intention was only to buy one. Then of course I found the others and who am I to break up a set?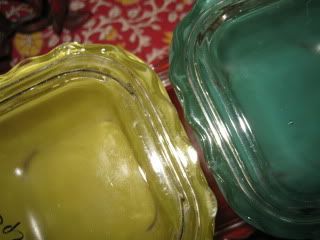 A little worse for wear, I'll use these in the craft room for storage. There is no makers mark but I bet they were something in their hey day. Anyone know anything about them?
A small bag of ugly 80s style salt shakers yielded these beauties! One still has the original glass cap. Too bad the others are missing but I have an idea for them. We'll see how it goes. It would require me to find a cap that will fit them so the search is on. I believe these are true depression era glass.
Two vintage readers from the 30s.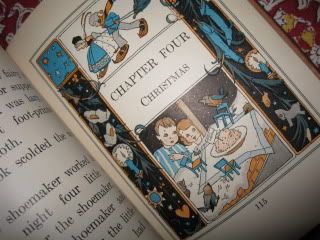 Aren't the graphics divine?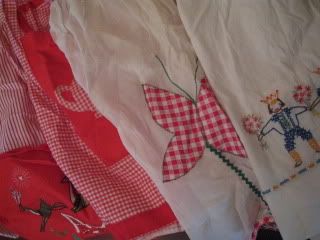 Four vintage aprons. Count'em. FOUR. And all cheap! Under $6 for all. Some are a little frayed and sad but I love them anyway.
I think this is my favorite.
Also loving the embroidery on this one. Love the little crowns!
Also love finding the holiday ones. I'm on the hunt to collect 12 vintage Christmas aprons and I'm well on my way with this addition.
So all in all a nice vintage find day. I also snagged a new Brita pitcher and a breadbox. So again this weekend, I have absolutely NO intentions of going to the thrift store.