So, you see, I started this cowl oh . . . let's say . . . 3 years ago. Rough estimate. And it's been living in a knitting container thingy since then, on the needles and almost finished.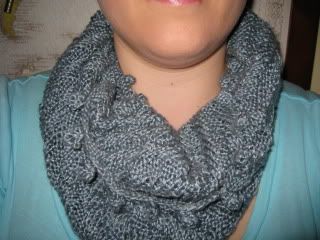 And there she is. Done. Made with a yarn I can't even remember and finished (after 3 years) in about an hour. Why do I let this stuff sit so long? I'll tell you why. Because I knew I wouldn't like it.
Not even with a cheesy grin and crazy bangs to go with it. The yarn I chose, while lovely, is too drapey. I think it's bamboo silk. The ball bands were not in with the project and I really cannot remember. I may have blogged about it but I couldn't find that either. Sigh. So now what? Perhaps it needs to be a pillow. Who knows. But at least it's finished. Which is more then I can say about most things hiding in the corners of the craft room.
Pattern
HERE
. And this is the second time I've made this pattern and didn't like it as a cowl. Again, yarn choice was not good.
Oh, and since I couldn't resist this picture found while trying to find the original photo of the cowl :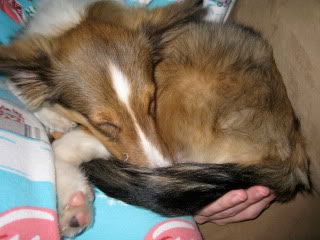 Cutest. Puppy. Ever.