I, like many of you, love finding items and up-crafting them. (that's my new word, you heard it here first!) Not long ago I
posted an article
about creating your own sanctuary with items from Homegoods. Be it a Mom Cave, a Craft Cave or just a Get Away Cave (that might be my favorite) having a space of your own is important and good for your mental health. :)
Homegoods
always has good finds and the prices are great. When I went last weekend I saw gorgeous glass jars for only $6 and $7 that now I wish I had snagged for on top of my fireplace. Since my DH was with me I didn't have that much time to browse (oy, men) but I did pick up a few things with the notion of up-crafting them. I'll have a few projects to share as they are completed but I was so excited about one that I whipped it up right away.
This frame was a steal at $7.99. The mat is for a 5x7 photo and the frame itself is about 11x12. It's a lovely shabby shade of green and well made. My intention was to cover the mat in fabric and frame a photo. Well as I started digging through my supplies it went a different way.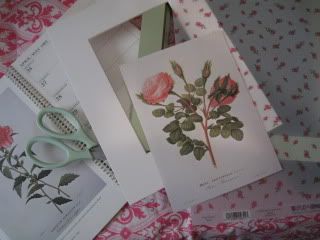 I picked up an old desk calendar at the thrift a long time ago that is filled with botanical prints. I kind of forgot about it but something about the green of the frame made me think of it and I quickly found a page with a lovely rose. I have loads of scrapbook paper and decided on a piece of rose covered velum for the mat and was tickled that new scissors even matched my project. (dork alert!)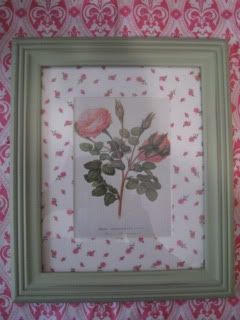 This project is so easy! Just lay the mat over the paper and cut out the center with a sharp craft knife. Trim the outsides and attach your paper to the mat with a little double sided tape. Center your photo, tape it in place and voila! Instant custom art.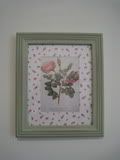 So? What do you think? More projects to come. Wait until you see the drawer pulls I found!
cheers!