I'm home. Back in New York City. Back to Queens. I feel over whelmed, tired, antsy. I feel like there is so much to do yet not enough time (or energy) to get it done.
My craft room should be condemned. The people from Hoarders will be coming for me soon. I want to create something but I can't do that when there is not one single clear work space in there. It's frustrating.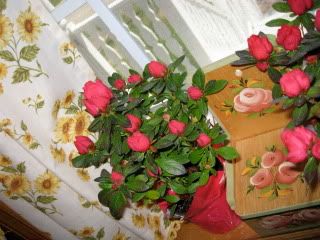 My pants don't fit. Sitting on your butt for 3 months will do that. I can't navigate the stairs to the basement to do laundry or dig out some spring clothes as the steps are about half as deep as my walking cast is long. Three more weeks of big plastic footwear for me. Have I mentioned that I broke my leg on January 23rd? What month is it?
I'm sprung. Literally. Neither coming, nor going. Just sitting here like a deer in the headlights with no clue what to do first. This is my 400th post. I wanted it to be happy, positive and rife with giveaways. I will have to out that on hold until I can dig myself out.
In one happier note, my sweet Louie turned 30 last Friday.
Happy birthday, love. Decorated picture made with
Picnik
.
Bear with me, I will be better. Soon. ~RR