As you know I was like the mad crocheter while my leg was healing. I spent most of my time creating softies but I also whipped up a few super cute pot holders as well.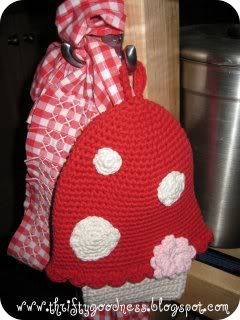 This is basically the pattern shown
here
from Lion Brand but I made mine a little bigger, added that frilly edging and made up my own flower. While I was making it I thought, "Hey! This looks like a cupcake!" (I was hungry) So I made this: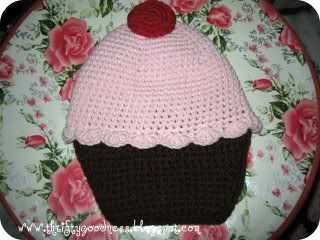 This is my own pattern and when I make another I'll write it up and post it for free on
Ravelry
. And since cupcakes make me think of cake, I made this: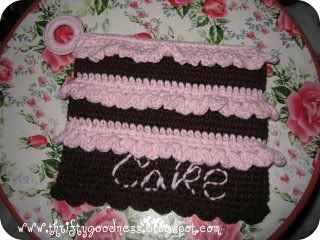 Mmmm . . . . cake.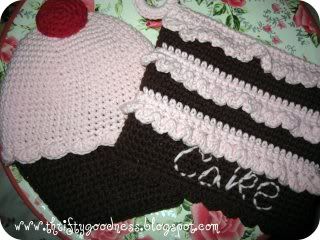 The mushroom is all mine and is already hanging in my kitchen but the cupcake and cake are up for sale in the Goodness Shop
here
and
here
. I have a bunch of cute aprons in there as well and will be adding things through out the week including new trims and some really cute vintage cake decorations.
I also posted a new article on the Examiner today. Do you know
Jane
? If you don't, you should! Read my article
HERE
about one of my favorite Trash to Treasure projects ever. Then visit Jane. You'll be hooked, I promise.
There is still time to read my articles and then
leave a comment on this post
for a chance to win some Goodness! Don't forget, you can subscribe to my column and click on my new crafty budget articles right from your in box. I'll be highlighting more Trash to Treasure ideas so if you have something to contribute,
drop me a line
!
xoxo ~ rr