. . . late as usual! I hope everyone had a fabulous Easter! It was a nice day with beautiful weather so we were able to sit on the porch and enjoy our meal. I'm still at my parent's house and we were joined by my sister and brother-in-law and my aunt and uncle.
Mom tried something new this year:
Asparagus tart! It was not only fabulous looking but easy and delicious. It's a Martha recipe and can be found
here
. It's worth splurging on the gruyere, trust me. :)
We had minimal decorations but they were lovely and evoked thoughts of Spring.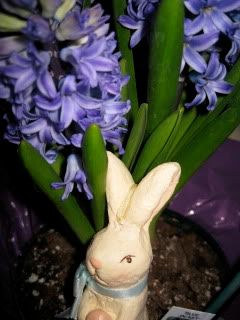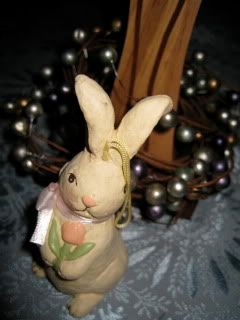 I love the little bunnies hidden amongst the flowers and garlands.
And we did dye eggs, the lazy way!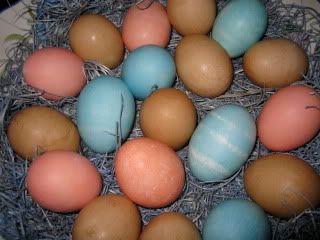 While boiling the eggs just toss in some food coloring! Red and blue makes lovely sometimes striped or spotted eggs and tea bags were used to make the brown eggs. Now we could have just bought brown eggs but this was fun!
So Hoppy (be-lated) Easter!
xx~rr
PS - leg update: I'm walking with a cane now. Yeah! But only for a little at a time to regain muscle in my leg. I'll be going back to New York as soon as I can handle stairs. :)