So literally, or figuratively, what's on your table? What are you working on? What plans do you have? Crafts? Cooking? Vacation? Now is the planning season. Even though I don't have to plan around kid's summer vacation as many of you do, the onset of summer brings lots to do. In travels we have a wedding in Baltimore in June and just booked a short vacation to
Las
Vegas with friends at the end of August.
In crafts, I've been enjoying some simple cross stitch. It's relaxing and easy to pick up and put down as things arise.
Red, white and blue are on my brain now so I've been contemplating some patriot crafts. Any suggestions?
I've been reading through old magazines and pulling out recipes to try. I have plans to buy a kitchen cart to add another workspace and hope to finally dive in to some more complicated meals. I also have plans to redo my laundry room. It's so drab and I feel I spend way too much time in there. So why not pretty it up a bit? I found a sweet wicker chest of drawers that has inspired the makeover style. I'll share that with you soon.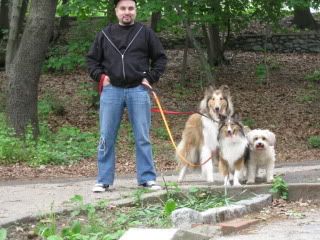 Also on the table are plans to spend more time outside. We started yesterday with a trip to the dog park. Fun was had by all. That's hubby Louie with Mason, Lincoln and Kaiser in Forest Park.
And literally on my craft table is the start of a Goodness Paper Pack I plan to giveaway this week.
Sign ups
will start Wednesday so please stop by for a visit!
Now tell me your plans! Either leave a comment or do a blog post and leave a link in the comments. I'm sure there are many inspiring ideas to be heard!
Fondly
Rebecca