I always love how
Sarah
says that her husband is her lucky penny when he goes
thrifting
with her. My lucky penny is
definitely
my friend Nine. Every time we thrift together, which isn't too often as she lives 4 hours away, I find something fabulous. Our trip to the thrift this past weekend was no exception.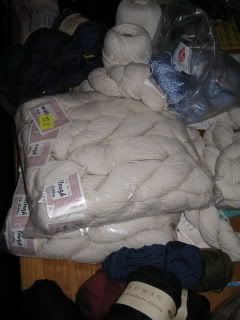 Now first I will tell you that I did spend about $50 (including high New York taxes) for this fabulous find but believe me, it was worth it. Yarn. And not just any yarn, YARN store yarn. The good stuff.
For you non-knitters out there, the yarn from the craft stores is okay. Most of it is crap but there are some nicer yarns put out by
Bernat
,
Patons
and Lion that I do like. I'm a cotton girl so the choices are limited. Yarn stores stock abundances of
fabulous
yarns from all over the world. Problem is that they are
uber
expensive. I'm talking $8 to $10 for a small ball. When you want to make anything larger than a tea cozy you need upwards of 10+ balls. You do the math. So while $50 is a HUGE price for me to shell at any thrift, this was the deal of the century for this avid knitter.
In my stash I found:
23 Balls -
Rowan

Handknit

cotton
(made in England) - retail cost: $6.00 a ball - $138.00
11 balls -
Phildar
Marjory cotton (made in France) - retail cost: approx. $6.00 a ball - $66.00 (no longer produced)
10 balls -
Stahl

Schuler

Lambada cotton viscose
(made in Germany) - retail cost: $7.00 a ball - $70
26 hanks - Classic Elite
Willough
cotton silk (made in England) - retail cost: approx. $8.00 a hank - $208.00 (no longer produced)
So what's that . .
umm
. . carry the one . . . $482.00 of fancy yarn ALL of which are cotton. Bliss.
Included in my $50 splurge are also a skein and half of Brown Sheep Cotton Fleece (about $8 a skein), 7 skeins of
Bucilla
Wondersheen
(a vintage crochet cotton used for making super fine
doilies
and table cloths) and 5 skeins of Coats & Clark Luster Sheen which is also a vintage fine
gauge
yarn.
Whew! So you can see why I'm excited, right?? I can't wait to dig in! Of course I REALLY need to finish a few projects first before starting another, right? RIGHT?
lol
I'm dying to start making that cotton silk (all the white you see there) into a
Garden Plot Squares throw
.
There is one thing that saddens me about my yarn find. You know there is a knitter out there that gave up. Fancy yarn store yarn does not randomly show up in this abundance at the thrift store. Don't worry fair ex-knitter, I'll make you proud. :)
Give Away Update:
I will announce a giveaway next week before I leave for a long Memorial Day Weekend. I do believe the prize will be a nice fat Goodness paper pack to include vintage wrapping paper and wall paper, all sorts of vintage tallies and playing cards, vintage book pages, ephemera, you name it. Lots of fun stuff for you to play with. I think most of use have a fondness for all things paper.
Until the next time . . . same thrift channel, same thrift time . . .
rebecca