To blog, or not to blog . . . that seems to be the question around here lately. I don't know why I can't seem to come up with too much to talk about. However, I just paid for another year with my photo
hoster
so you're stuck with me at least until February 2010. :)
So I don't have much crafty to share, still plugging away on that baby afghan and frittering with a small cross stitch project so how about some favorite things?
My whole family is crafty. I suppose that's where I get it from. Many of you know about my sister who not only is a
professional
photographer but also a
primo
party planner and felt manipulator. My mother has a knack for decorating, crochets and does paper projects. My father is a wood worker. And he's good.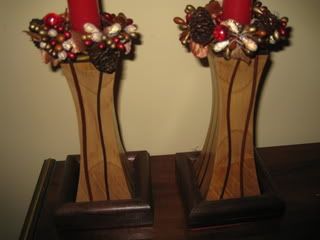 These are a pair of candle sticks he gave me for Christmas. My Mom and sis got pairs, too. I love them! They are pressed wood and he cut all those wavy stripes from thin veneers and created the candle sticks. High on my list of favorite things!
Eye candy, I know. :) A collection of vintage
luxite
knitting needles my Mom
thrifted
for me. I had every intention of putting them in the
shop
when she told me about them but seeing their
sherbet
colors and fun vintage labels sold me. They stay here where I can admire them.
And what list of current
favs
wouldn't include the new puppy?? I finally cleaned the craft room (I'm talking OVER HAUL, I hope you all are proud of me) and put down a
blankie
so my best little buddy can come for a visit. And he does.
Of course there are loads more favorites on my list but I've been a bit lax in photo taking lately. I plan to change that. Since I paid for that photo
hoster
I'd better get going on making new photos. Wish me luck! We all know how I stink at resolutions.
cheers
Rebecca