If you thrift, you collect. I'd almost guarantee it.
Thrifting
is the epitome of b
eing
a hunter gatherer. Don't we all say "it's the thrill of the hunt?" When I thrift I always look for three things. I believe some of us have even have a Triple Crown of finds. I believe mine is:
Vintage Hankies
Vintage Pyrex
Enamel
Flower Pins
I think that's it. You know it changes from time to time. I also have my top brands to look for:
Waverly
Martha Stewart
Le
Creuset
So when I say to you, "I have a collection of vintage hankies" or "would you like to see my collection of vintage Waverly fabrics?" you would not be surprised. But have you noticed that sometimes we seem to just end up with collections with out even realizing it?
I cleaned out my
craft room
recently and one of my sorting techniques was to group like things together. And what did I find? Impromptu collections. Divine!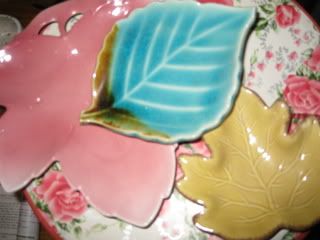 Apparently, I collect leaf dishes! After I took this picture I realized I have another large blue leaf shaped dish on my dresser. I love the way the colors look together and am looking for a place to display them.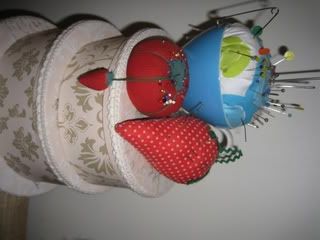 A pin cushion collection. :) Yes, I know, this one doesn't seem too unusual but I never intended to have so many and now must are mearly decorative. I made the tea cup pin cushion (I used to offer them in
the shop
actually) the tomato was from my Granny's sewing box and I found the big strawberry at the flea market for $1.
And more . . . the
froggy
from the Treasure Sale looks quite at home with a sweet little shoe, a metal basket and nest pin
cushion
made by
Her Majesty
.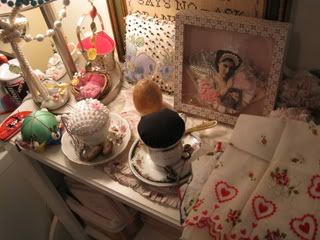 The green pin cushion is a gift from Mandi (she found it at the Treasure Sale), the tea cup with the white chenille is one of my creations and the one with the black fabric was made for me by my dear friend Dita. So what's that . . . 10 pin cushions? Oh yes, I collect those. You can also see that hankie collection I mentioned in the photo above. And see that darning egg in the back there? Well it's one of two so I suppose that is a collection as well.
And guess what?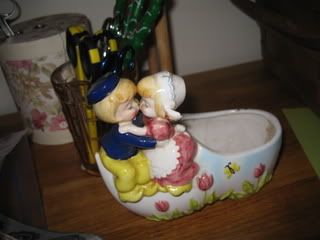 I plan to make this into a pin cushion as well. Will it be number 11? We'll see, I think it may become a gift.
And here is another "on purpose" collection: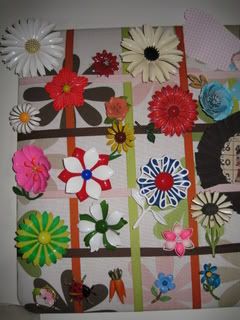 My
enamel
flower pins. I really love them. The green and yellow is the latest addition, another gift from my sister Mandi.
So what do you collect? How do you display your collections? Notice any impromptu collections popping up?
Viva La Thrift
Rebecca