So my lovely partner for the Sweet Goodness Vintage Valentine's Corsage Swap is darling Emma who resides in the U.K. I wanted to send her corsage off ASAP so she'd be able to have more time to enjoy it with the extra time it will take to arrive. So I got started some time ago on this project.
Since I've never made a corsage before I decided to also make one for my Mom as a trial run, if you will. Since she has already received it, I figured I can share:
I used a vintage corsage thrifted some time ago that was kind of plain. Just the silver leaf and silver fringes on the corsage stem.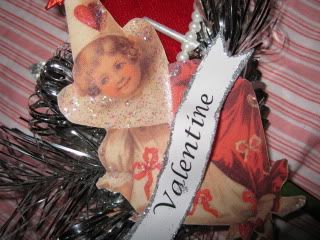 I added the graphic (which is from a
Dover
collection) and label, red dresden bow and lots of glitter. I also tucked in a velvet heart found in my treasure sale treasures (I have a whole bag of these!)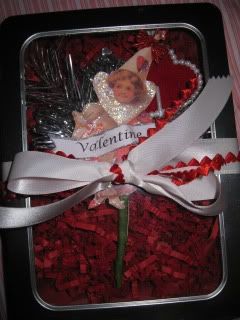 I put it in a box that originally had Christmas cards in it, added some shreds and a ribbon and voila! Simple to make but oh so cute! Once Emma receives her corsage, which is pink, I'll share that as well.
I think we should bring the corsage back. Any one up for a Vintage Easter Corsage Swap??
xoxoxo
RR