My favorite swap of the year, the one I never miss even if I'm in a cast or so busy that I can't see straight is the annual Goodness Girls Christmas Ornament Swap. It's a small swap with only 5 members, myself,
Jodi
,
Shara
,
Heidi
and Leigh Ann. Basically the girls who come together to organize and execute the swaps at
Sweet Goodness Swaps
. While this year our swaps over there have been limited I was happy that were still able to do our swap of ornaments with each other.
The first ornament arrived yesterday: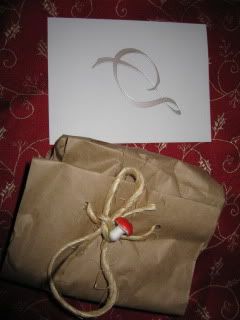 From Shara, the queen of the cutest packaging! So what's inside? I was hoping that tiny mushroom was an indicator and I was right!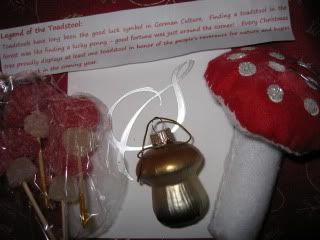 Toadstools! I collect ornaments, I guess, and I love unusual ones and toadstools are high on my list. Though it seems they are not so unusual in Germany where they are considered good luck and there is one of every tree.
The felt one is hand made by Shara and is already one of my favorites.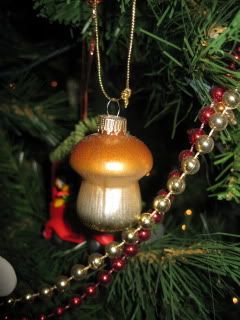 The tiny glass one is just adorable! The gum drop toadstools have mysteriously disappeared. Hmm . . .
Thank you, Shara, I love them!
So what did I make? Since they should have arrived to everyone by now, I'll share. I decided to step out of my normal realm of crafting (read: PAPER) and made each of the girls a new party dress: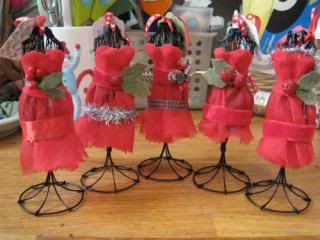 Each one is slightly different and were so fun to make!
I can't take total credit for the idea. Many years ago my friend Jennifer at
The Felt Mouse
made similar dress forms for a bachlorette party. She shared her source and I ordered the forms and they've been sitting gathering dust for more than 3 years! I looked on Jennifer's blog but cannot locate the original post. I'll keep looking!
More to come on the other fabulous Goodness Girl Ornaments!