I'm so behind on everything this year including making my January list. Every year at the holidays I make a list of all of those things I really want to do but won't have time to get into until January. Some things on the list this year so far:
1 - Sew new curtains for the kitchen
2 - paint the porch
3 - work on my doll house
4 - organize the pantry
Anyone out there have a January list? This is short for me. lol
We headed into Manhattan on Saturday to take in some holiday goodness.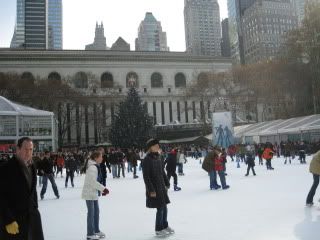 Ice skating in Bryant Park . . .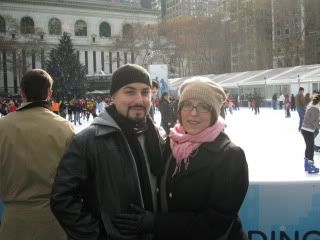 We just watched from the side lines. :)
We also saw this:
Charmin put potties in Times Square! You should have seen the line! There was a man outside dressed like a toilet. It was hilarious and honestly, a fabulous idea! Finding a bathroom in the city can be challenging. My husband says he's going to write a book of all the best places to pee in Manhattan. I'm sure we'll be rich. Hmm.
I'm trying to get everything done and not lose the fun of Christmas. I hate when it gets too overwhelming that it's more annoying than jolly. I have some hand made ornaments to share but want to make sure they arrive at their new homes before spoiling the surprise. :) I'm also knitting which is just amazing since I just haven't been inspired lately. Now hopefully I can finish up a few things before the holiday. Wish me luck!
~RR