Hello all! Where did the summer go? As you know, I'm sooo ready for fall but it was nice to spend a week in the
Outer Banks
soaking up the sun. Now it's back to reality and already I feel overwhelmed. Don't you hate that? All that relaxation just washed away but the rigors of day to day life. Sigh . . . so let's reminisce, shall we?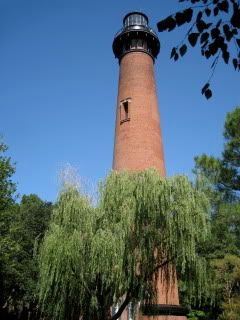 The
Currituck Beach Lighthouse
was just half a mile from our beach house. It's located in a lovely little park with a gorgeous view of the
Currituck Sound
and some sweet little shops. Luis climbed up the 216 steps to the observation deck. I stayed safely on the ground once I heard you had a sign a waiver that the light house wasn't a sound structure!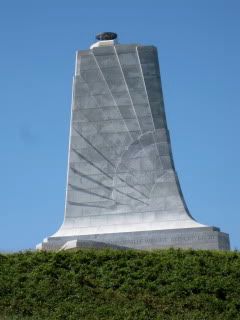 We also went to
Kill Devil Hills
to see the spot where the Wright Brothers made the first flight.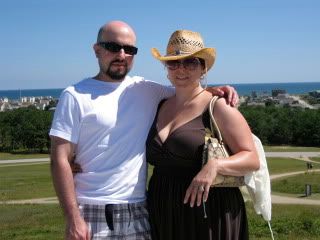 We climbed up to the monument where you can see the sound and the ocean plus the field with markers of the flights.
On our last day of the trip we rented a jeep and went on a tour of Swan Beach.
Luis was very excited to try his hand at 4 wheeling in the sand. :)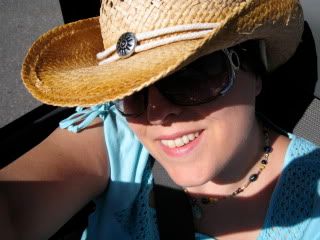 Oh how I love the self portrait! :) The beach houses a wildlife preserve which is home to a herd of
wild horses
. They are not shy and come right up to the cars!
There were a few new members and we were lucky to get to see two of the colts up close. So cute!
Ahh . . . vacation. Now it's back to real life and work. At least until our trip to Los Angeles in October. :) In the mean time I'll try to get some crafting going on. I joined the
Halloween Crown swap at My So Called Junky Life
. My partner is Samantha from
Altered Art Junkies
. I can't wait to get started!
Stop by and read my latest article at the Examiner. You can find it
HERE
. It features one of my favorite crafting authors, Tone Finnanger, who has a new Christmas book coming out next month. I'm so ready to start on my holiday projects, how about you?