Hello all, enjoying the on set of Fall? I am! :) So I was wondering if anyone out there has a Cricut machine and what types of projects they've made. I'm going to start a series at the Examiner on Cricut projects and would love to feature some of yours. I make mostly paper crafts but I know you can cut vinyl and make cake decor and I'd love to see some of the different options. So if you or someone you know is using Cricut (or even if you see it on a blog somewhere) let me know!
I just won these two cartridges on Ebay: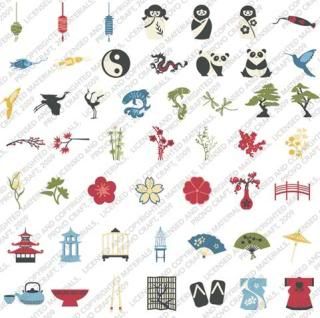 I got F
rom my Kitchen
for $22 and
Pagoda
for $15 both with free shipping! If you know anything about Cricut cartridge prices you know these are really good! They are brand new and I can't wait to use them. Check out
Mom's Home Made Crafts
on Ebay, she lists loads of Cricut items and often has free shipping.
What would you make with these two cartridges?
So please, get in touch! I'll be cranking up the machine this weekend for some fun crafting with my friend Nine. Can't wait!