I love making hats for gifts. I've already made a few with a long list still to go. I hate that I don't have as much time to knit and crochet now that I'm working full time but hats are pretty easy and portable for when I can take them with me to sneak in a little work here and there.
I recently finished up this beauty:
I really need a foam head or something to show off my hats! I remember seeing them in abundance at the thrift "back in the day" but I don't recall having seen any lately. This hat is from the winter issue of Knitscene magazine (I think) and is made with Paton's silk angora. It came out a bit too big for both my head and the friend I made it for so I need to adjust it or start a new one and give this to a big headed friend. ;) (Actually, my friend and I have peanut sized heads.)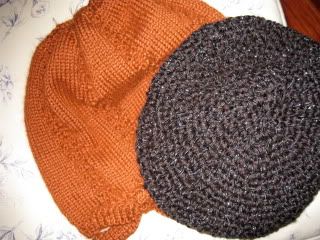 I know that looks like a silly black circle on the right there but I swear that is a hat, too. Sort of a newsboy style, it's a pattern from a vintage crochet book called "IN Crochets" which is pretty funny don't you think? You see the lady in the snazzy big glasses? She's wearing this hat.
I received it in the mail along with a few other books from
Vallen
, her majesty of all things good. It was a fabulous surprise! Very fun funky 70s patterns. I tried to get a few good shots of me wearing the hat (it really is cute) but no luck. I am so not a hat person. This was a gift for my sister so maybe she'll take a photo of her wearing it. (HINT HINT MANDI)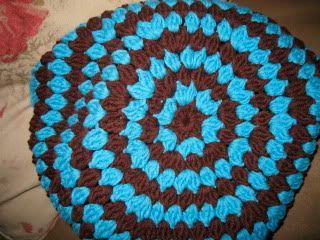 This is a puff stitch crocheted beret that is my own pattern. It's cute but a little heavy so I'm trying to incorporate a wide knit band to make it stay in place better. Trial and error!
In other news, remember
Ms. Felicity Foxity
?
I've entered her
in a contest
to be a part of the
Interweave Crochet
Amigurumi 2012 calendar. Wish her luck! I'll need to write out her pattern and if she doesn't win I'll publish it here for everyone to enjoy. She's one of my favorite toys to date.
Please visit me at the Examiner
. I have two articles up about getting ready for Halloween Crafting. You can find them
HERE
and
HERE
. I'll be featuring some fun Halloween crafts, including
my cracker party favors
, so please subscribe to get all the fun updates and projects.