Gee, I'm doing REALLY WELL on my resolution to blog more! Yikes! Honestly, I don't have too much to talk about at the moment. But soon, yes very soon, I know I will. I have loads of projects planned and a big rummage sale in February that I'm looking forward to.
So in the meantime I thought I would share some of the GORGEOUS ornaments I received from other
bloggers
for the holidays. Leigh Ann,
Lucy
,
Heidi
and I (aka The Goodness Girls) decided to do an ornament swap between the 4 of us. All I can say is WOW.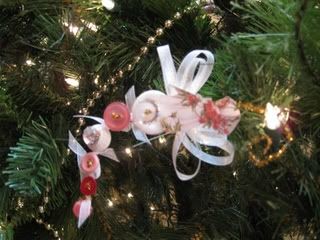 Leigh Ann's Sugar Plum Button Fairy!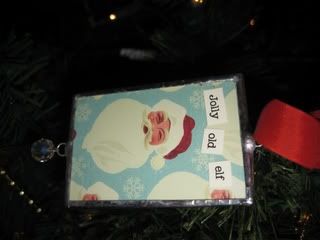 Heidi's soldered
Santa
ornament!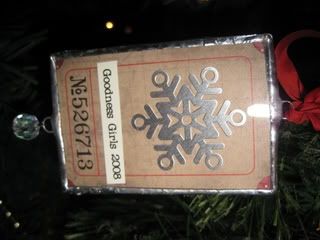 Don't you love the back? I love how she put Goodness Girls and the year. I wish I had thought of that! We plan to make this a tradition between us with dates every year. :)
Lucy's hand painted Bless This House Ornament!
I know you guys are jealous. ;) I sent them each one of the paper shadow boxes I made. I'm already thinking about what to make next year.
I also received some sweet surprise ornaments in the mail. How did I get so lucky?
A gorgeous fabric and velvet leaves ball from
the Queen
herself!!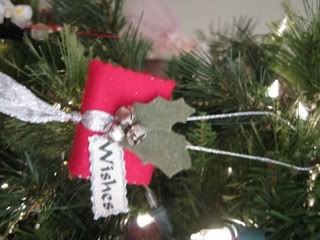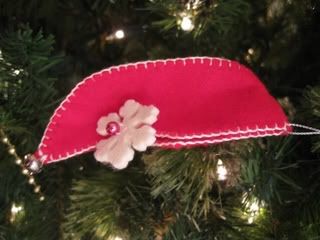 And these two lovely felt ornaments from my dear friend
Sid
. Don't you LOVE that wish box? You are supposed to write down a wish, put it in the box and comes true! I'm
totality
craftnapping
that idea. And who doesn't love a little red shoe?
So you see I am SO LUCKY to have such crafty good friends.
I'll be back, as promised. For real this time. Oh and since it's been awhile, how about a
gratuitous
cute puppy picture,
hmm
??
That boy loves to nap! I love his little polka dotted feet!
xoxo
Rebecca