Are you as tired as I am??? Wow. The holidays were fast and furious! But fun, of course. :) There were lots of lovely visits with friends and family, parties, presents and yummy meals. 
While I love Christmas and all the hustle and bustle, I look forward to a bright shiny new year. It's my time to get organized. My time to get started on my January list. And it's looooong this year. I have new linens for the bedroom and bathroom (which means a total cleaning first), big plans to overhaul the craft room and office, meal planning and learning a new language to get started on. :) And of course the many projects I want to get started on including many baby items for my expecting best friend.
I also promise to be a better blogger. I'm working on a brand new laptop over here and I'm still learning the differences between Mac and PC. So far, I'm lovin' the Apple. More to come on that. Since I don't have any of my pictures uploaded on here yet how about a shot of one of my favorite hand made gifts from the holidays?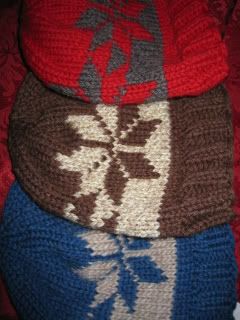 Husband Hats! I showed you a bit of these before and I am thrilled with how they turned out. I ended up making 5 total. They were well received and that makes you feel good. :) I hope to make the guys scarves for next year though I'll need to get started earlier this year I think. :)
I'll be back soon with some new photos and projects and hopefully some new goodies in The Goodness Shop. Now I'm off to start on my New Year's Resolution of keeping up on my blog reading.
fondly,
Rebecca