I was happy to join
Sarah's
Halloween Ornament swap this year and blow the dust off of some of my crafting skills. Everytime I join a swap I start freaking out that I won't finish in time. Luckily my second idea turned out well (the first, not so much) and I was able to finish them up with time to spare.
My theme was Bewitching Beauties. I love using vintage images* in collage art and when I came upon some cute scrapbook borders of different poisons I knew I wanted to show a fancy lady with her preferred method of getting rid of her problems. ;)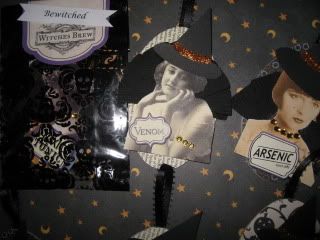 I gave each beauty a witch hat, crepe paper collar and some bling and packaged her up in a sweet little toile bag. Toile made of skulls that is. Spooky.
I've received my return package and all I can say is WOW. These crafty ladies are good. I'll share links to Sarah's posts of all the creations soon!
Cheers ~
* - I find a lot of my images
here
.