Fall is in the air so it's time to bake!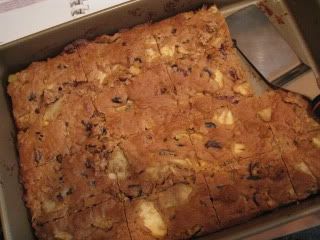 Apple Cranberry Walnut Breakfast Bars
BAKE at 350 for 35 minutes
2 cups all-purpose flour
2 tsp baking powder
1 and 1/2 tsp cinnamon
1/2 tsp salt
2 cups (packed) brown sugar
2 eggs
1 stick of butter (1/2 cup), softened
1 tsp vanilla
1 and 1/2 cups diced apples
2/3 cup dried cranberries
1/2 cup chopped walnuts
Preheat oven to 350 degrees. Spray a 9 x 13 inch cake pan with cooking spray and set aside. Combine flour, baking powder, cinnamon and salt in a bowl. In an electric mixer, beat brown sugar, eggs, butter and vanilla until smooth. Slowly add flour mix until combined. Add apples, cranberries and walnuts and spread into cake pan. Bake for 35 minutes or until toothpick inserted in center comes out clean. Cut into bars and enjoy!