A trip to the Savers on Sunday produced only a few finds for me: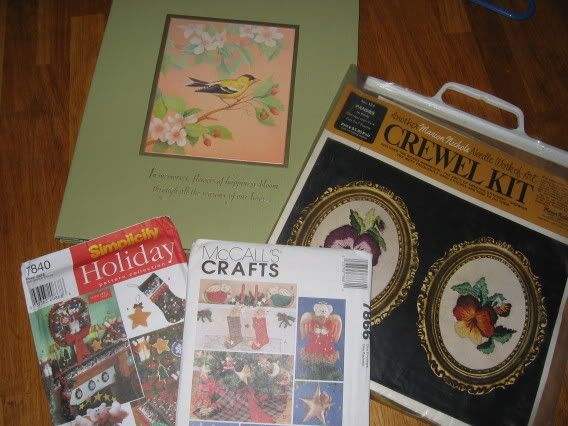 Hallmark 1982 bird photo album - very pretty, I'll need to replace the pages - $2
Crewel Kit - looks like all the pieces are there - $2
Craft Patterns - Simplicity & McCalls both for hoilday sewing projects including stockings, tree skirts & ornaments - $1 each
(not shown) a stuffed eagle for the dogs - $1
That's the cheapest I think I've ever gotten off at the thrift. I should have taken pictures of Lizzy's finds, she scored a lovely velvet & wool swing coat, a black suede jacket and wool cardigan for around $18 total. :)
I found some other bargains at the "real" stores including
these Keds
for $15 at Marshalls, a Japanese paper shade at Target for $2 and a set of alphabet rubber stamps on clearance at Wal-Mart for $7.
until next time . . .