These items were not thrifted, they were gifts. However, since I want to show them off AND because getting lovely "second hand" items as gifts is still a thrifty way of living.
My dear friend Elizabeth inherited many things when her aunt passed away. I am fortunate in that she likes me enough to feel I would give some of these special things a good home.
Two vintage cocktail shakers, the one has a lovely star burst pattern and the other is in a shape you don't often see. It has a handle on the side, too. (ahem, she also kindly gave us a bottle of fancy Irish whiskey and a bottle Remy Martin . . . oh la la!)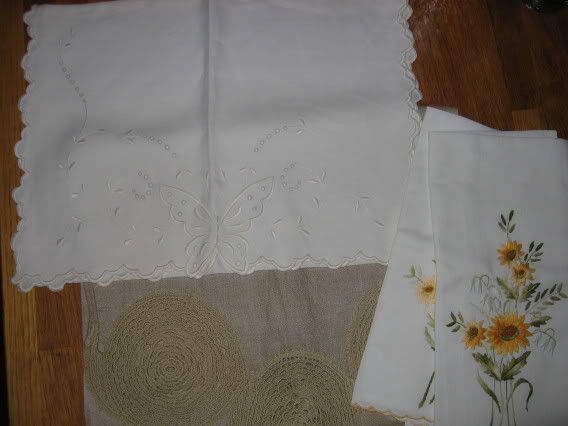 These are only a few of the linens she passed onto me and the picture certainly doesn't do them justice. These are my three favorites, a brown linen table runner with a circular crocheted edge (it came with a matching oval doily), 2 hand embroidered tea towels and a cotton dresser scarf featuring a butterfly lacy motif. All of the pieces she gave me are gorgeous and will most certainly work their way into my decor. Thanks again, Elizabeth!
oxoxo