I actually found some things at the thrift store worth talking about. The thrifts here have been terrible lately. Not even nice baskets or bins for organizing. Just plain old junk. And not
the good kind of junk
, either. So imagine my surprise on Saturday when I actually found things at the two local Unique stores.
First up, I swore to myself that I wouldn't buy any more novelty planters: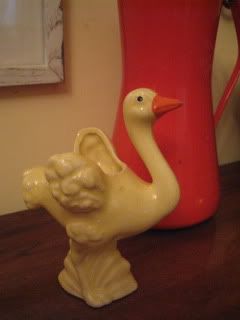 But this little ostrich was too cute to pass up. I quickly turned him into this: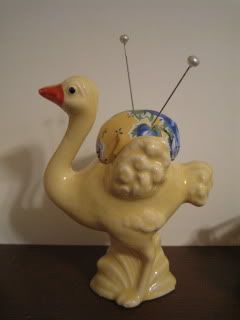 He fits in nicely here with my other altered pin cushions: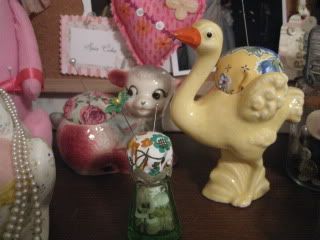 I also lucked into a chicken scratch gingham apron:
I have quite the collection of these now. I'll have to get them all together for a photo op.
Vintage is rare at the thrift these days so when I saw this fabric hiding amongst the curtains I had to grab it up:
Do I need it? No. But look at that mouse's plumbers crack! Come on. This is a large print and I think it would make for a very unique tote bag.
I also snatched up some old trophies but more on those later. I went in search of vintage books to make altered journals. I made a few pages last week and really enjoyed putting together new and vintage elements to create them.
Here's hoping the thrifting mojo sticks around! What did you find?