Hello all! I hope everyone had a fun and festive Fourth. L and I spent the week with my parents and pretended like we were on vacation. (Read: lots of dinners out, tons of Yahtzee on the porch, a carnival and other fun activities!) I did get a chance to hit a thrift store or two with my Mom and found a few things. Though I do think the good finds are very scarce these days. I need to sniff out some flea markets and yard sales.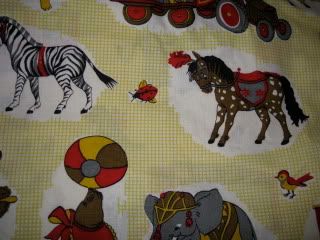 I lucked into these two cute pieces of vintage fabric. I love the circus animals one the best. It's a heavy fabric, like decorator weight, and I will definitely be making myself a cute tote from it. There are like 4 yards so I'll have loads left over. The brown is a soft silky cotton and will make a nice lining for bags maybe? I'm not sure what I'll do with it. It reminds me of souvenir scarves. The pattern features Lac Leman (French for Lake Geneva) and Invalides which you can read more about
here
.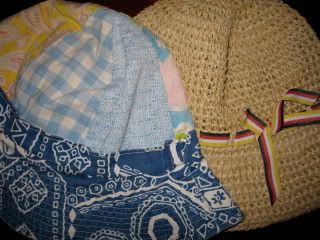 Also found two cute summer hats. The fabric one is hand made and is reversible! The second photo is the other side. I love the fabric choices. The other is just cute and floppy.
I have been looking out for these cute children's dish sets since I saw one on a blog like 3 years ago. When you stack it up . . .
Instant cuteness! Honestly, I'll probably put this in the shop. I'm sure someone with a kid would get more use out of it then I will.
So not too shabby but I feel like it takes 4 trips to get anything good these days. These are finds from two trips to two different stores actually.
New swap over at
Sweet Goodness Swaps
! Hop on over to sign up for A Midsummer Nights Dream! We are only taking the first 40 so sign up soon!
I also have a new article up at the Examiner. Click
HERE
to read about some fun FREE crafting newsletters to sign up for. I'm also looking for more free newsletters to feature so please let me know if you have any favorites.
Fondly ~ RR