Hello all . . . first a quick swap update:
I am waiting for one interested party to respond with an email address so we have an even number of swappers. If I do not hear from here in the next two days I will be looking for an additional swapper to even out our ranks. If you are interested, please let me know! Because this is taking longer than I expected I'll also push back our send out date by a week.
And now the tough break:
I was recently diagnosed with diabetes. I know millions of people live with it every day but I am freaking out. I won't see an endocrinologist until September (thank you, over populated NYC) and am trying to follow the GI diet in the mean time. I'm also crossing my fingers that the nerve pain I'm having in my leg is not related. I should know more about that tomorrow.
Sorry to be such a downer but I wanted you to know I am still here plugging along and at least I know why I've been so exhausted lately and have been losing so much weight. (not too much complaining there, ahem.)
And just so we have some photos, here are some shots of the lovely picnic set up by my dear friend Nina, my Mother and myself over the weekend: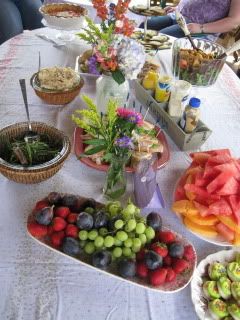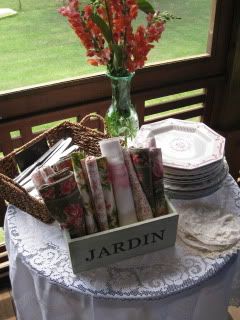 We had a wonderful time eating, chatting and swimming. It was so nice to enjoy the warm summer days with friends I hadn't seen in awhile.
I'll be back soon with the swap update and to share some finds from the latest Treasure Sale!
fondly,
Rebecca