Yes, I know, I've been ABSENT. Not just from writing but from reading as well. You know summer, busy busy! So since I have nothing much to share in the way of thrifts or crafts, how about another craft challenge?
In order to allow for more players I've picked an item many of you will
already
have. The wooden spool!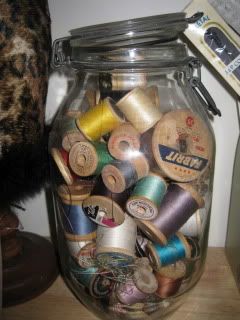 Here is my collection! So how about some rules?
THRIFTY GOODNESS CRAFT CHALLENGE #2 - THE WOODEN SPOOL
You can use any medium you want but the main piece must be a wooden spool. Size matters not, you choose. Ideas? Let's see . . . spool dolls, spool notes, ornaments, jewelry? You name it! The idea is to be creative!
Try to use supplies you already have in your stash. It's nice to use up some of those treasures, right?
We'll give it a month - finish your spool by July 17
th
. Here is a
Flickr

pool
where we can show off our craftiness! Post your picture in the pool by the 17th. Then we'll do a little voting to pick the top three favorite spools. I'll send a little Goodenss to the winner! Prize is at my discrection but I think it will be something you'll like. Sound like fun?
Leave a comment here if you'd like to join in so I know who is playing! spread the word!
Happy Crafting!
Rebecca
PS - See the results of Craft Challenge #1 HERE.